The Consumer Price Index dropped 0.4% in May over a 12-month period, reported Statistics Canada. Excluding the gasoline index, that the CPI edged up only 0.7%, which was the smallest rise since January 2013, stated the agency. In May, the CPI rose 0.1% on a seasonally adjusted basis. 
"As the year-over-year decline in prices for goods (-2.3%) slowed in May, largely the result of rising energy prices, year-over-year growth in prices for services slowed from 2.0% in April to 1.3% in May. This slowdown was broad-based, with travel, shelter, and contract services, such as telephone services and passenger vehicle insurance premiums, all contributing," explained Stats Can.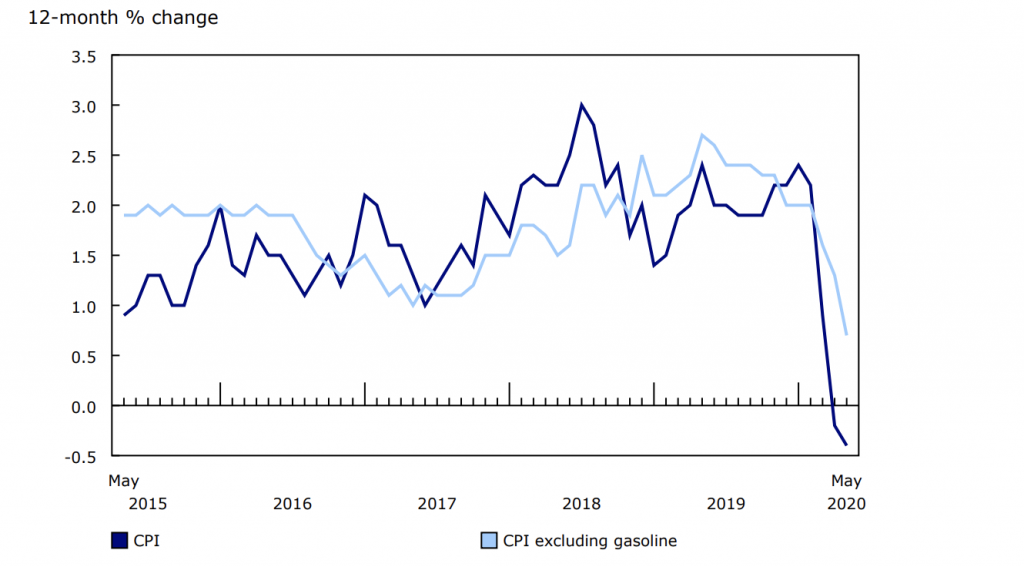 Food Index
Over a 12-month period, the price of meat rose by 7.8%.  An increased demand for non-perishable items contributed to the rise in the price for flour and flour-based mixes by 9.4%. Additionally, the price for rice and rice-based mixes increased by 9.3%.
Overall, on a year-over-year basis, Statistics Canada reported that food prices have increased 3.1% since May 2019.
Energy Index
In May, the price of gasoline soared 16.9%, coincided with a global increase in demand for oil and gas as many nations begin lifting travel restrictions imposed by the COVID-19 pandemic. Irrespective of the increased global demand, since May 2019 the price of gas has plummeted 29.8%.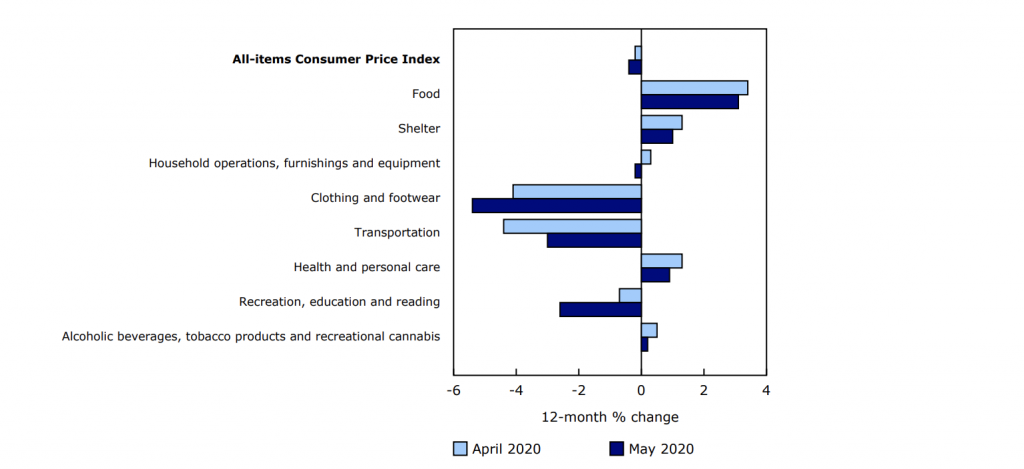 Statistics Canada released a statement regarding how purchasing patterns of Canadians have changed due to the COVID-19 pandemic.
"The COVID-19 pandemic has undoubtedly led to shifts in consumer purchasing patterns, as Canadians adapt to driving less, travelling less and buying more of certain items, such as cleaning products and non-perishable foods. Changing purchasing patterns have implications for the basket weights used to calculate the Consumer Price Index (CPI), which is built to represent the consumption expenditures of the average Canadian household. The Canadian CPI uses a fixed basket, based on expenditure data reported by Canadians in the Survey of Household Spending. This method allows for consistent measurement of pure price change by quantifying how the cost of this fixed basket of goods and services changes over time. It works well in stable economic conditions. In partnership with the Bank of Canada, Statistics Canada is exploring ways to use current, ad hoc sources of expenditure data to estimate CPI basket weights that reflect shifting consumption patterns during the pandemic. These data cover several CPI product categories and provide an estimate of expenditure weights during the pandemic. Weight estimates, updated to reflect expenditures during the COVID-19 pandemic and the concurrent period of physical distancing, can provide insight into whether major shifts in consumption patterns result in statistically significant changes to the headline CPI. The results of this work will be released soon. Statistics Canada will continue to calculate the official CPI based on the fixed basket approach. However, this exploratory work recognizes that an analytical CPI series that accounts for temporary extreme shifts in consumer purchasing patterns can provide additional insight into the impact of COVID-19 on the CPI."
Source cited: https://www150.statcan.gc.ca/n1/daily-quotidien/200617/dq200617a-eng.htm