The Consumer Price Index (CPI) edged up 0.7% on a year-over-year basis in October, reported Statistics Canada. The agency stated that the increase from 0.5% in September was primarily due to a rise in food prices. Excluding the price of gasoline, the CPI increased by 1%. In October, the CPI increased 0.3% on a seasonally adjusted monthly basis.
Overall, October saw price increases in five of the eight major component indexes.
"While the shelter component contributed the most to the year-over-year increase, the all-items index rose at a faster pace in October compared with September, mainly due to the food component," explained Stats Can.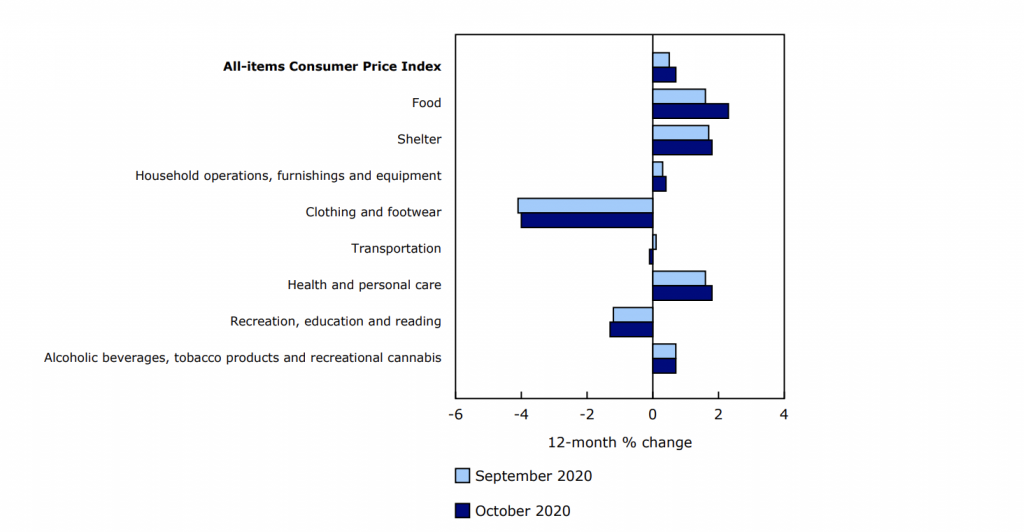 Gasoline Index
In October, the price of gasoline dropped 12.4% over the last 12-month period. "The year-over-year decline in gasoline prices in October (-12.4%) was comparable with the decreases in September (-10.7%) and August (-11.1%)," remarked the agency in its report.
Food Index
Within the food index, the price for specifically fresh vegetables rose 9.5% in October, compared to the 3.6% increase in September. On a year-over-year basis, the price of meat increased 1.7% in October, compared to the 0.4% rise seen in September. "This faster price growth was supported by higher prices for fresh or frozen chicken (+2.4%) following a 2.2% decline in September. Volatility in the food service industry related to COVID-19 has had an unpredictable impact on chicken prices. The rise in prices in October followed production cuts beginning in May, which were implemented in an effort to steady the market," explained Statistics Canada.
Mortgage Interest Cost Index
In October, on a month-over-month basis, the mortgage interest cost index dropped 0.7%. "Mortgage rates continue to face downward pressure from lower interest rates following reductions in the Bank of Canada's policy interest rate in March. Lower interest rates continued to coincide with increased demand for single-family homes. This, along with higher building material costs and low inventory of homes for sale, contributed to higher costs for new housing, with new home prices increasing at their fastest pace in 14 years. The homeowners' replacement cost index, which is derived from the price of new homes, rose 1.4% month over month, the largest monthly increase since June 1991," explained Statistics Canada in the report.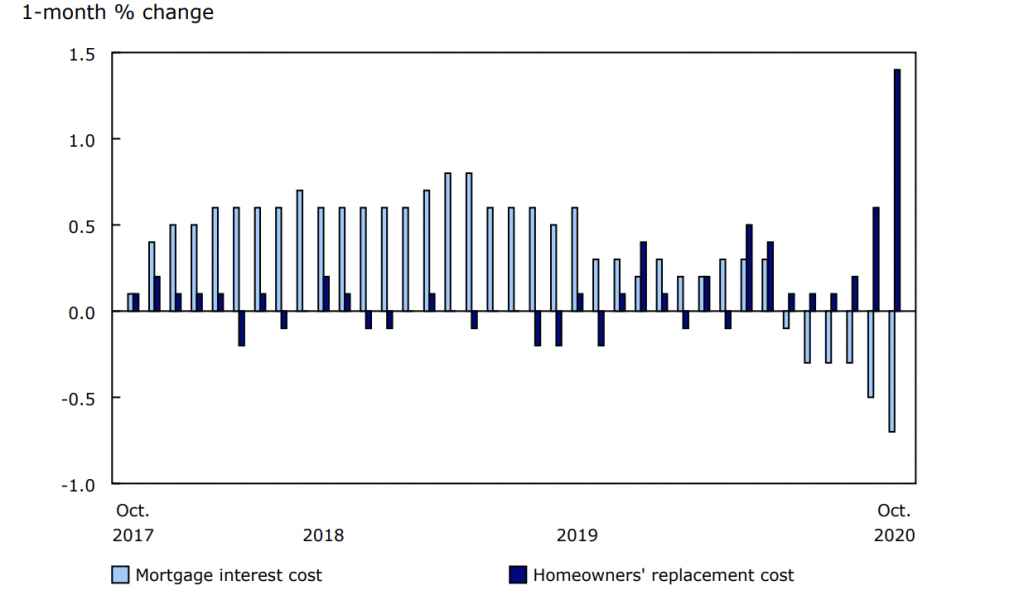 Statistics Canada released a statement regarding additional research the agency has been conducting on the effects COVID-19 pandemic on the CPI.

"For more information about the impact of COVID-19 on consumer spending, please consult the research document entitled 'Adjusting the Consumer Price Index to the new spending realities during the pandemic' released on October 8, which explores new sources of expenditure data to estimate basket weights that reflect shifting consumption patterns during the pandemic. The Monthly adjusted price index (provisional) and the Monthly adjusted consumer expenditure basket weights data tables are available. For more information on consumer expenditures during COVID-19, users can consult two available documents. The first is 'Canadian Consumers Prepare for COVID-19,' which examines the shifting consumption patterns of Canadians during the COVID-19 pandemic up to March 14. The second is 'Canadian Consumers Adapt to COVID-19: A Look at Canadian Grocery Sales up to April 11,' which explores a continued shift in the consumption patterns of Canadians during the COVID-19 pandemic up to April 11. All of the above publications can be found in the Prices Analytical Series (62F0014M)."