The Consumer Price Index (CPI) edged up 1% in November on a year-over-year basis, reported Statistics Canada. On a seasonally adjusted monthly basis, the CPI increased 0.3% for the month.
Overall, prices increased in six of the eight major component indexes in November.
Shelter Index
According to the data collected by Stats Can, the shelter index increased 1.9% since November of last year. The agency reported that in the last 12-month period, the price of rent rose 1.5%.
"While year-over-year growth in rent prices remained below pre-pandemic levels, November marked the fifth month-over-month increase in six months, with the lone decrease occurring in July," explained Statistics Canada.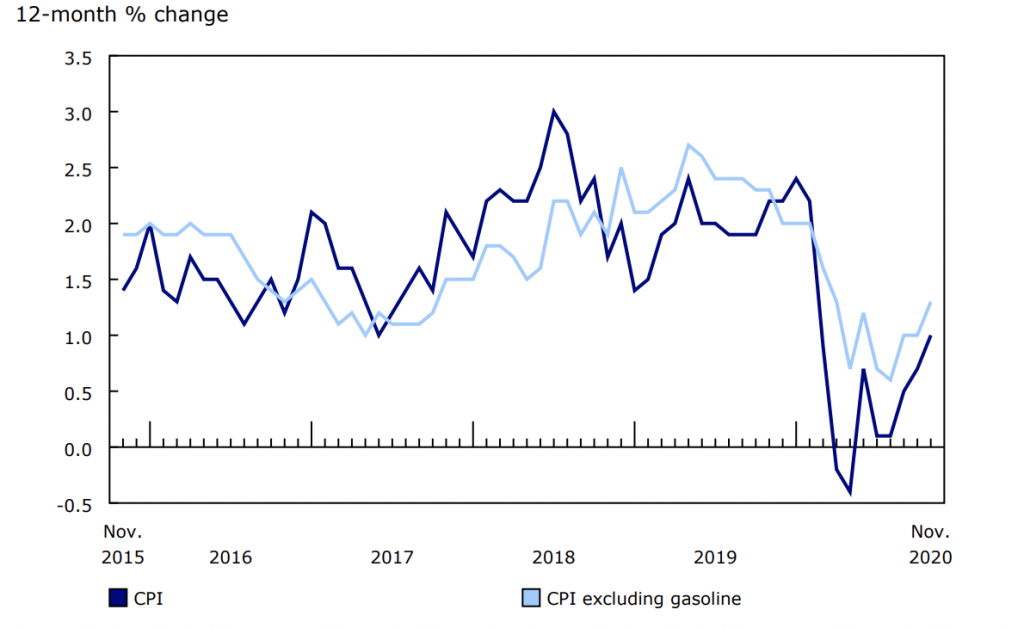 Homeowners' Replacement Cost Index
Connected to the cost of new homes, the homeowners' replacement cost index increased 1.1% over the last 12 month period – this marked the ninth consecutive monthly increase.
"Historically low interest rates coupled with a shift in home buyer preferences toward larger spaces continued to fuel demand for single-family homes. This higher demand and the combination of higher building material costs and low inventory of homes for sale in some markets contributed to rising prices for new housing," explained Statistics Canada in its report.
Gasoline Index
Over the last 12-month period, the price of gasoline has dropped by 11.9% in November. Statistics Canada stated that the second wave of the COVID-19 pandemic with its tightened restrictions on movement, have resulted in the global decline in demand for gasoline.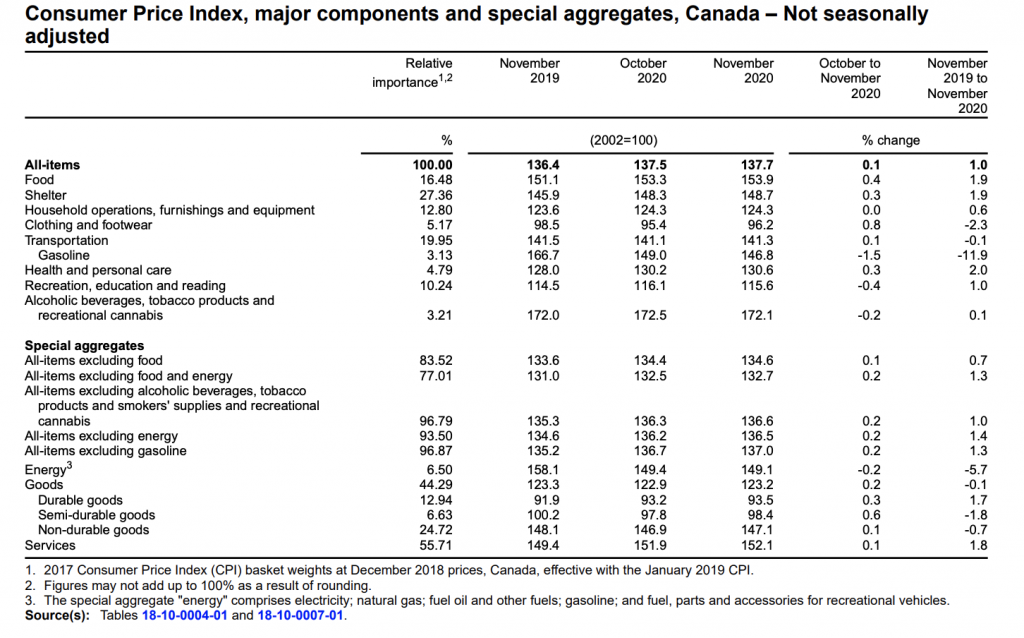 Statistics Canada has conducted research over the course of the COVID-19 pandemic. The agency released a statement regarding the compiled data.

"Statistics Canada continues to monitor the impacts of the novel coronavirus (also known as COVID-19) on Canada's Consumer Price Index (CPI). Goods and services in the CPI which were not available to consumers in November due to COVID-19 restrictions received special treatments, effectively removing their impact on the monthly CPI. The following sub-indexes were imputed from the monthly change in the All-items index: travel tours, components of spectator entertainment, recreational services, and some components of use of recreational facilities and services in some areas. Due to new restrictions, the price indexes for beer served in licensed establishments, wine served in licensed establishments and liquor served in licensed establishments were imputed in Quebec, using the indexes to which consumers likely redirected their expenditures: beer purchased from stores, wine purchased from stores and liquor purchased from stores. Consistent with previous months affected by the COVID-19 pandemic, prices for suspended flights are excluded from the November CPI calculation because passengers were ultimately unable to consume them. As a result, select sub-components of the air transportation index were imputed from the parent index (air transportation). A document entitled Technical Supplement for the November 2020 Consumer Price Index is available e in the Prices Analytical Series (62F0014M) publication, with further details on the imputations used to compile the November 2020 CPI."
Source cited: https://www150.statcan.gc.ca/n1/daily-quotidien/201216/dq201216a-eng.htm