Canada's consumer price index (CPI) accelerated by a sizable margin in October 2023, rising by 3.1% year over year (Y-o-Y), per today's Statistics Canada (StatsCan) The Daily report published at 8:30 a.m. on 21 November 2023. This marks a large deceleration from September's 3.8% CPI reading posted the previous month.
The financial media reported on Tuesday's CPI reading with mixed reception, with some, such as the Globe and Mail, citing that the 3.1% figure met analysts' expectations, whereas others, such as Reuters, commented that October's inflation deceleration was "more than expected".  As a result of October's soft CPI reading, market watchers are largely unanimous in believing that the Bank of Canada will not issue another interest rate hike before year-end. Regardless, Canadians will watch closely as the Bank of Canada announces its next overnight rate target on December 6, 2023.
Despite October's excellent inflation reading, the current rate remains marginally above the Bank of Canada's predicted 3.0% inflation rate for the second half of 2023.
The main catalysts behind October's price deceleration were falling gasoline prices (-7.8%) and finished goods across the board (+1.6%). By contrast, service prices accelerated (+4.6%) and rents once again jumped in October (+8.2%).
Consumer price growth is on the slowdown this autumn, marking large, broad-based decelerations in pricing in various sectors of the consumer economy. For a closer look, below is a full breakdown of Canada's October 2023 CPI report.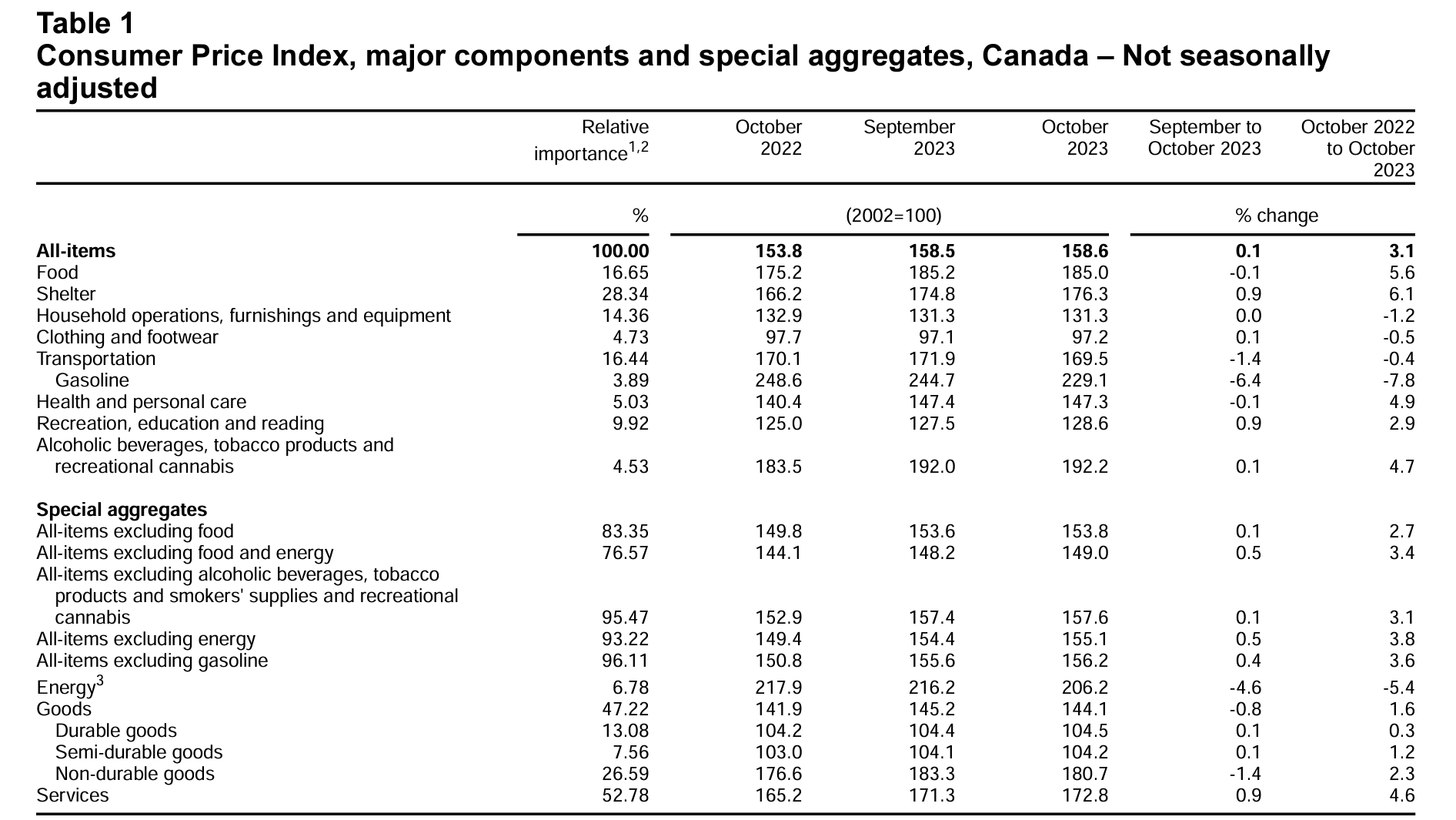 Source: Statistics Canada (Table 18-10-0004-01)
Core CPI Continues Its Downward Trajectory
In October, the CPI excluding gasoline continued to decelerate. The core CPI (including both "CPI-trim" and "CPI-median") both ticked up in August after trending downward since 2022, and has now resumed its downward trajectory. The CPI-trim index was 3.7 in September, down from 3.9 in August, and is now 3.5 in October. The "CPI-trim" metric tracks the core CPI reading in Canada, minus the outlying extremes on the tail ends of the price distribution.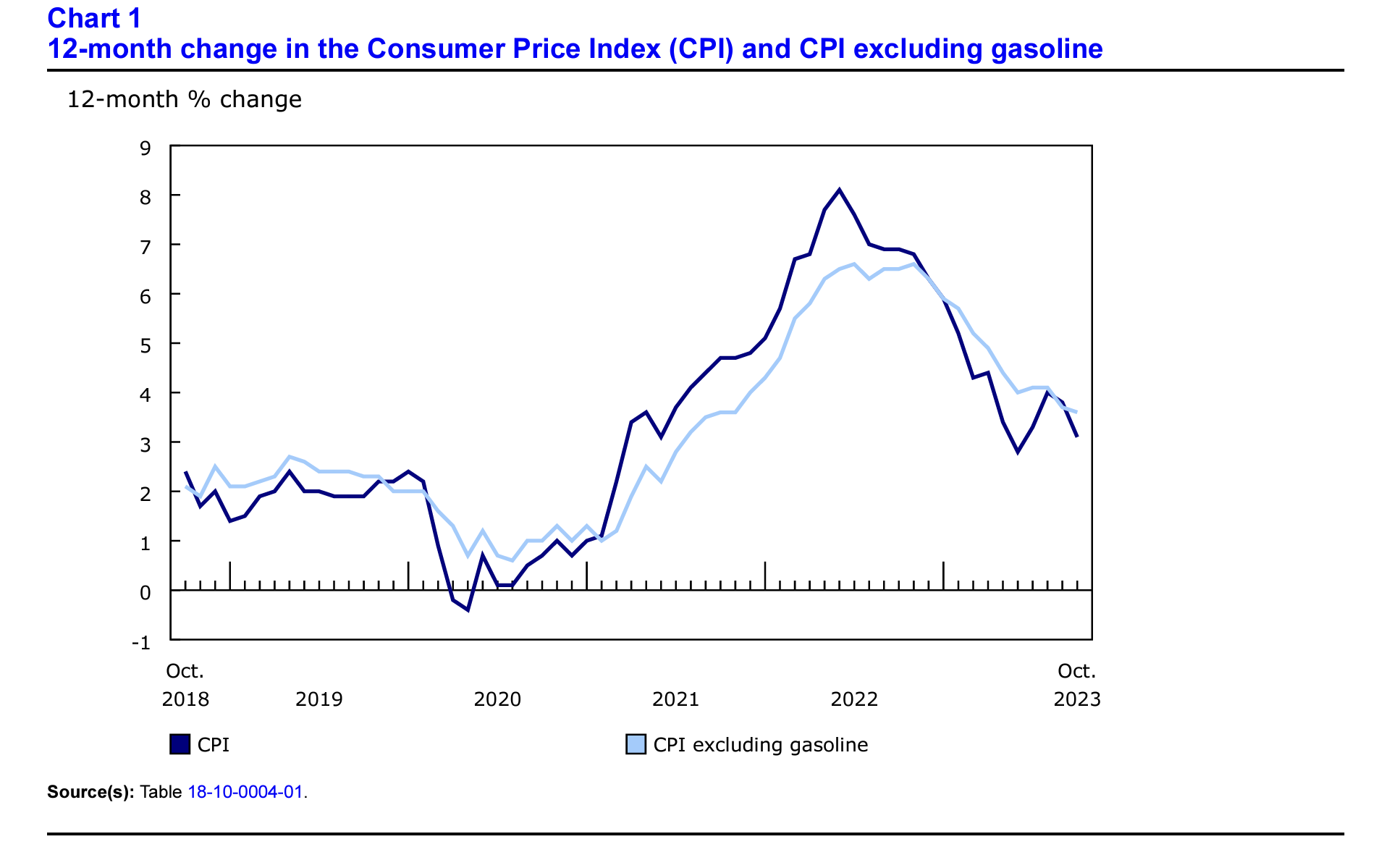 Broad Consumer Price Relief in October
Only two major components of the CPI featured price acceleration this month: shelter and recreation, education, and reading. All other components, including food, transportation, and health and personal care decelerated in price. Transportation prices fell by the largest margin of all major components in the CPI, dropping by (-1.4) percent in October due, in large part, to falling gasoline prices.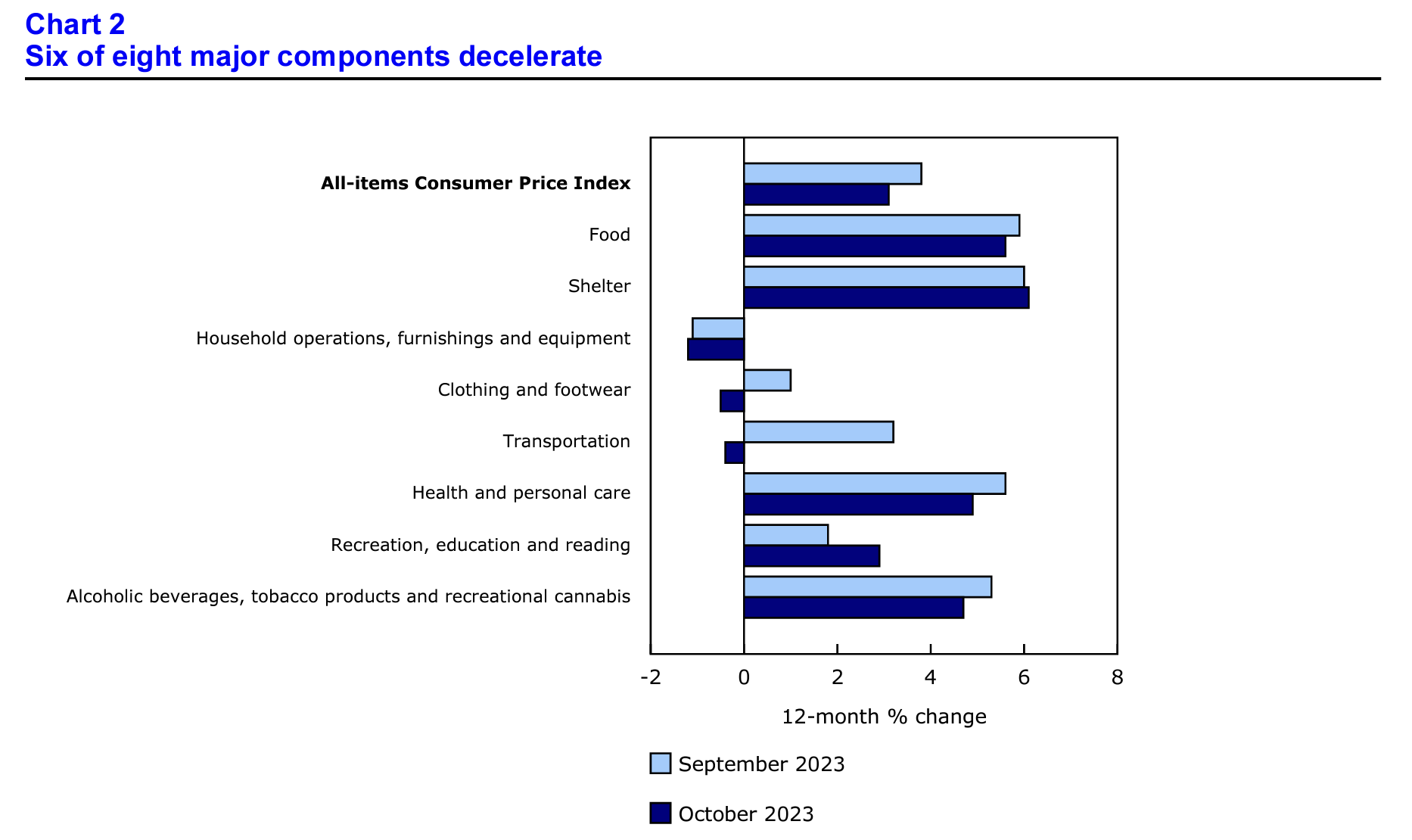 Goods Fall, Services Rise in October's CPI Report
All CPI inclusion categories decelerated on a 12-month basis except for services. While goods—including non-durable and semi-durable goods—decelerated in prices. Prices for services accelerated by approximately 0.9 percent in October. Prices for goods fell due to decreases in fuel and transportation costs, whereas service prices increased due to increased costs for travel tours, rents, and property taxes.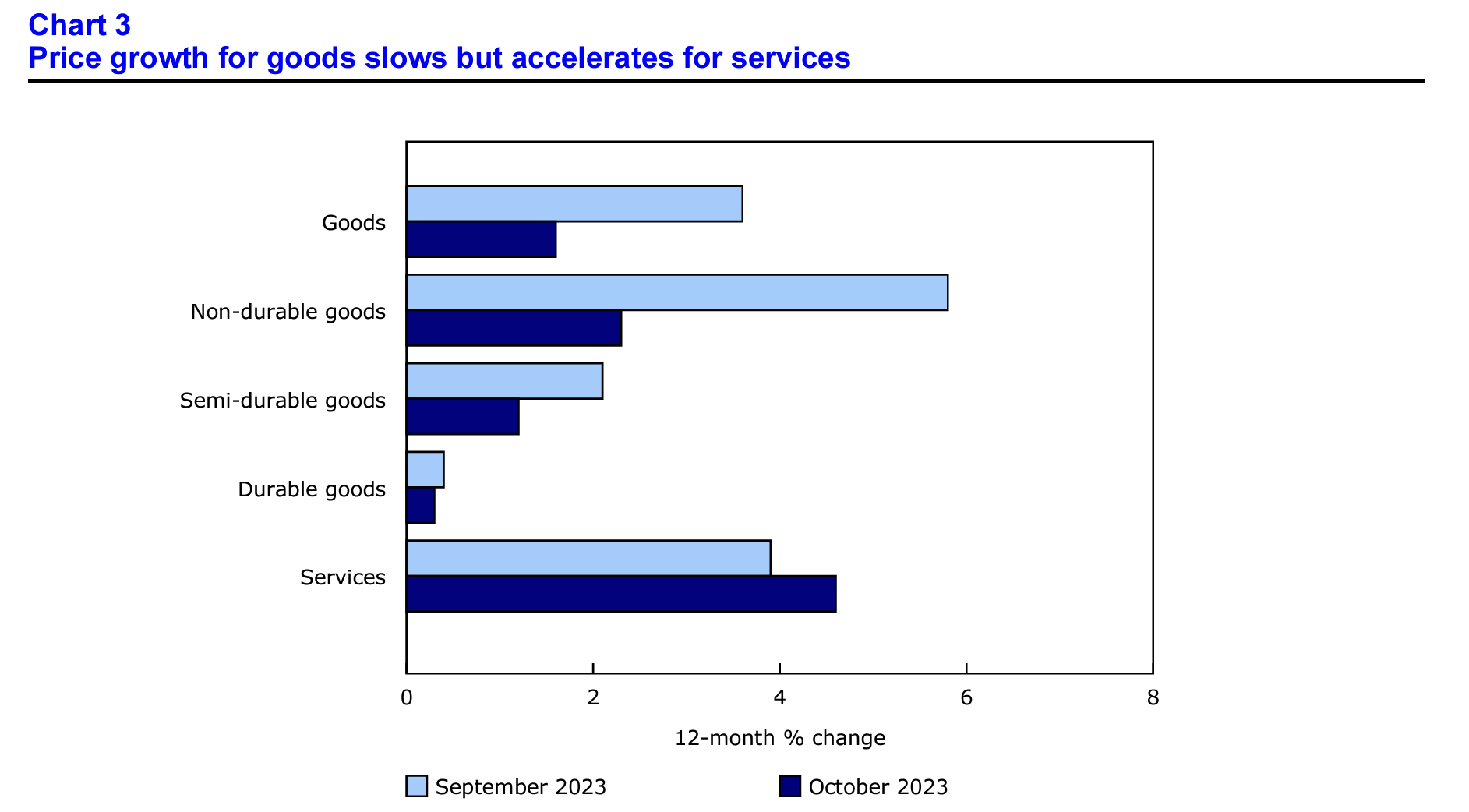 Prices at the Pump Finally Enter "Nosedive" Territory in 2023
October's gasoline price decrease (-7.2%) marks the largest single-month decline since December 2022. This is welcome news for many Canadians who suffered sticker shock in September when gas prices hit a year high, reaching as high as $1.68 CAD per litre.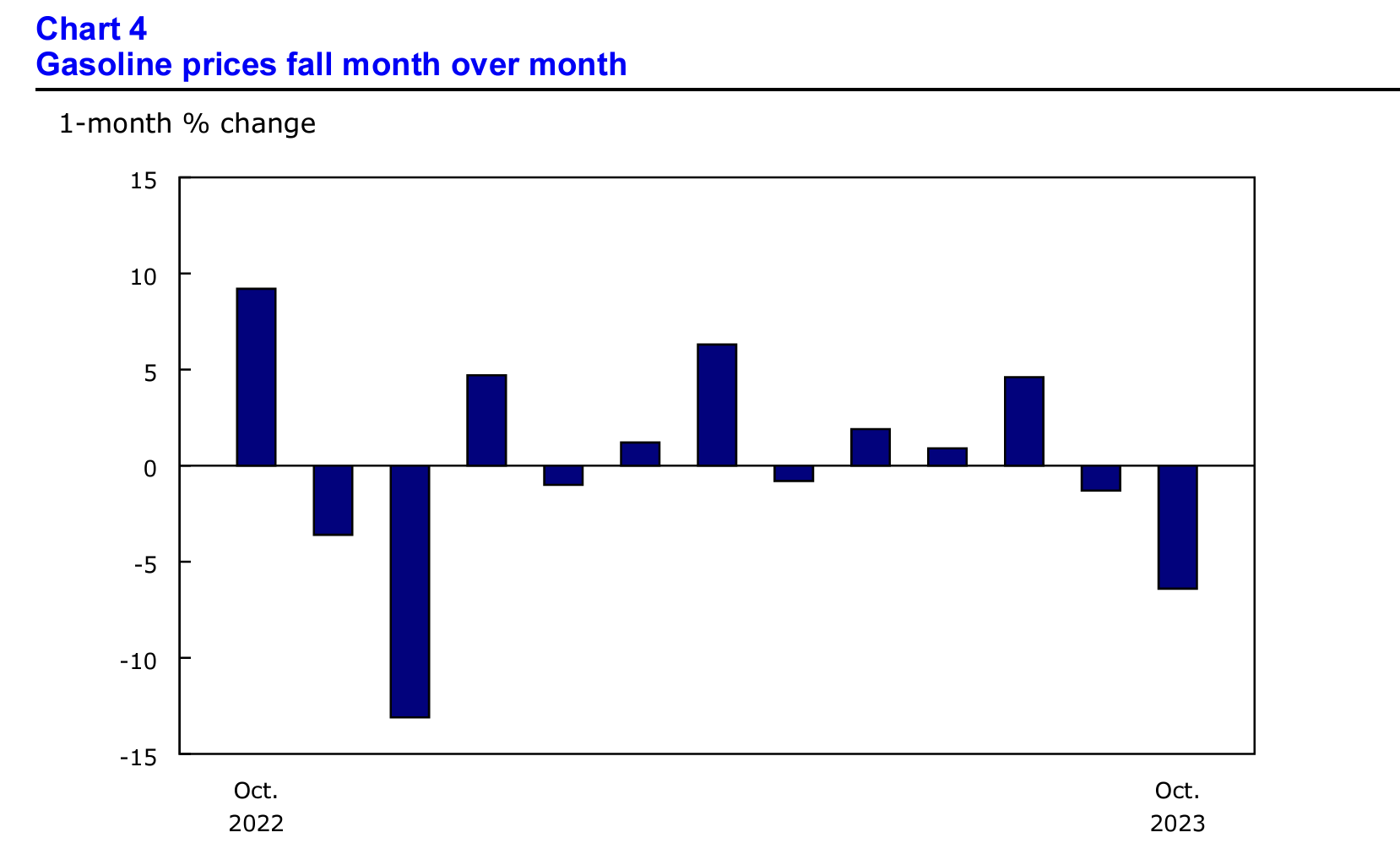 Beat Inflation this Holiday Season: Diversify With Trusted Assets
Despite deceleration inflation, high interest rates, soaring unaffordability, and above-expected inflation have some analysts concerned about the long-term health and sustainability of the Canadian economy. Regarding Canada's high inflation, some analysts have even remarked that "[t]hings got a lot more interesting for the Bank of Canada, and most definitely not in a good way." Given the need to continue reining in prices, it remains to be seen whether future rate hikes are on the horizon in 2024.
Should further rate hikes come to fruition, our cost of living crisis may worsen as more Canadians are unable to service their debts, pay their mortgage, or keep a roof over their heads. If the opposite occurs, and rates remain stagnant, we may see inflation remain high into the new year.
The good news is that there are options available for risk-conscious investors and retirement savers. Precious metals such as gold and silver have historically held their value more reliably than stocks during inflationary periods. Physical assets and commodities such as real estate and precious metals may provide a strategic hedge against adverse market conditions such as inflation, recessions, and more.
Want to get started with alternative investing? Browse our free guide to gold buying in Canada in 2023 to learn how to add diverse assets to your TFSA, RRSP, or other retirement accounts.
Report Cited: https://www150.statcan.gc.ca/n1/en/daily-quotidien/231017/dq231017a-eng.pdf?st=oV1MWaEn