Canada's consumer price index (CPI) cooled significantly in May by dropping 0.4% on a monthly basis, per today's Statistics Canada (StatsCan) The Daily report issued at 8:30 a.m. on June 27th, 2023.
On an annual basis (Y-o-Y), the CPI dropped to 3.4%, constituting a major inflation deceleration in Canada following a brief acceleration in April.
The StatsCan report indicates that the main drivers behind this month's CPI deceleration were gasoline prices (-18.3%) and other base year effects related to the spring 2022 surge in energy and gasoline prices following the Russian invasion of Ukraine. Therefore, it could be that this month is an anomaly brought about by base year effects alone, which may not be representative of a long-term trend in inflation in Canada.
Ultimately, May 2023's CPI report in Canada was the lowest since June 2021, and was largely in keeping with economists' expectations.
Although this month's cooling of the inflation rate is welcome news to many, price increases continue to negatively impact Canadians' lives across the country. Let's look at the details of this month's inflation report to see where and how Canadians' purchasing power is rising and falling.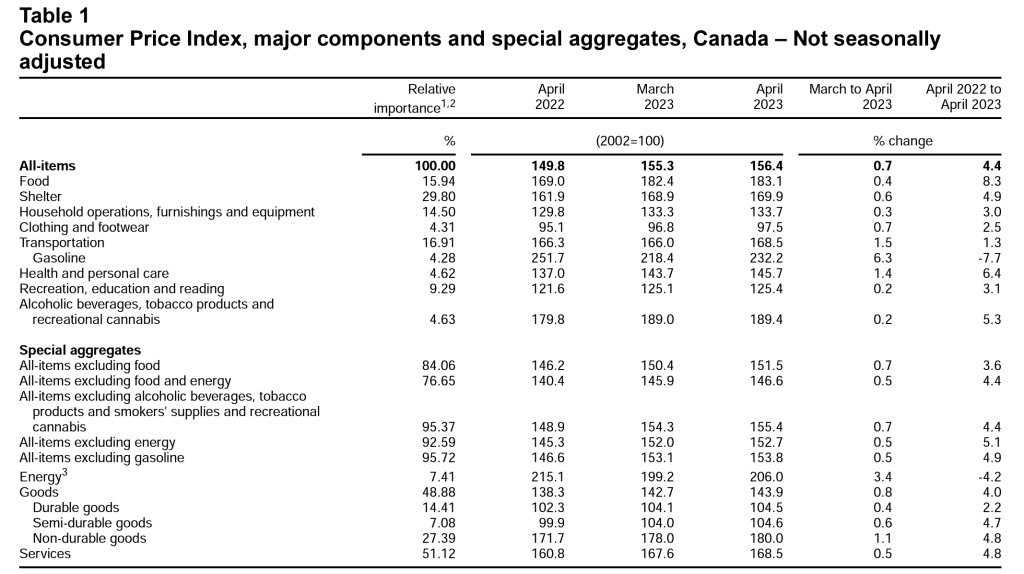 Source: Statistics Canada (Table 18-10-0004-01)
Core CPI Comes in Higher Than Expected
Surprisingly, core inflation measures were reportedly higher than expected in May 2023. This, according to Stephen Brown from Capital Economics, who remarked:
With the labour market also loosening in May, the case for another rate hike in July is not quite as strong as it seemed a few weeks ago. Nonetheless, with even the one-month annualized CPI-trim and CPI-median inflation rates still above two per cent, and the housing market heating up, we still judge that another hike is more likely than not.
The core CPI excludes food and energy prices, which continued to decline in May following a steep decline in April and March (both 0.3%). This suggests that food and energy costs have a major role to play in this month's overall price acceleration, whereas services and basic discretionary goods are likely to have stagnated or even declined in price.
Of note are grocery prices, which rose by 9 percent in May and remain elevated from April's 9.1 percent hike—a price jump largely precipitated by major increases in the costs of edible fats and oils as well as cereals and bakery products. By contrast, consumers paid 8.2 percent less for consumer cellular services in May due to major cost decreases in mobile phone calls for Canadians.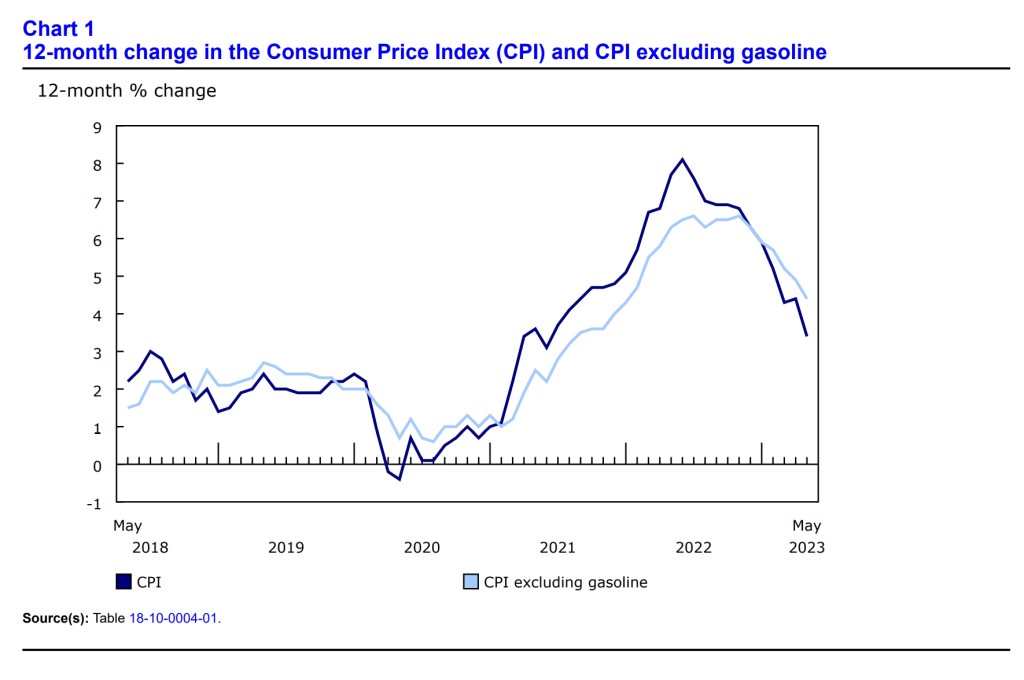 Regional Differences Abound in May 2023's CPI Report
In May 2023, Canadian provinces are continuing to experience inflation differently. Although the nationwide inflation rate is 3.4 percent, certain provinces such as Saskatchewan (4.3%) and Quebec (4.0%) are continuing to see inflation rates at 4 percent or higher. Meanwhile, Prince Edward Island (0.7%) and Newfoundland and Labrador (1.7%) saw their May 2023 CPI readings come in below 2 percent each.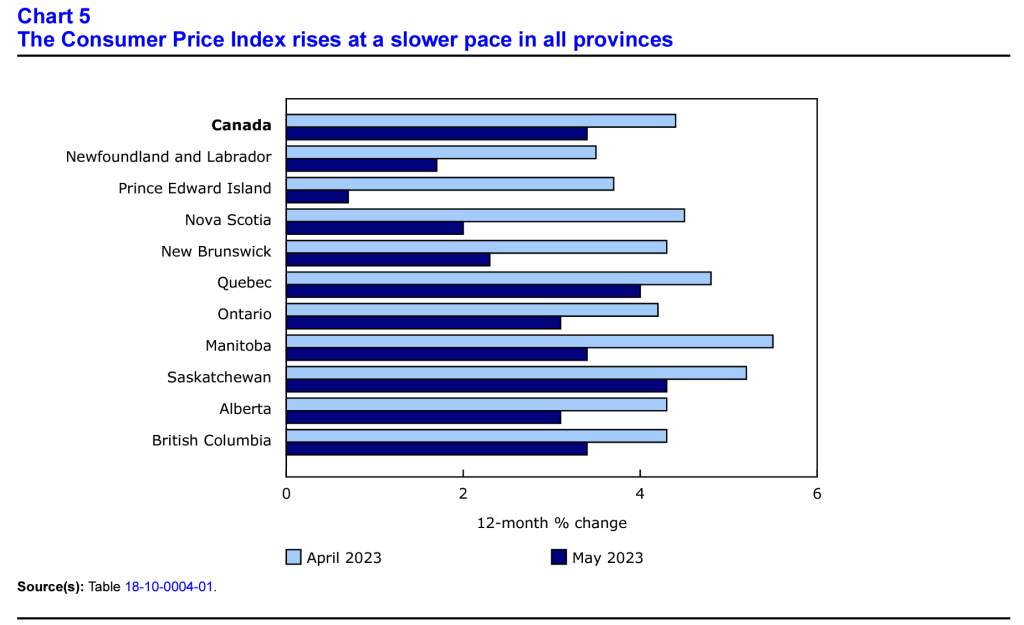 Summer is Here: Don't Let Your Savings Get Scorched by Inflation
There's no denying that May 2023's CPI report comes as positive news for Canadians. After two years of sky-high inflation, we finally have national inflation rates firmly in the mid-three percent range. However, now is not the time to get comfortable. With a Bank of Canada meeting on July 12, another interest rate hike could be on the horizon—likely leaving financial markets deep in the red.
To protect your savings from the wealth-evaporating effects of inflation, and your investments from the negative impacts of interest rate hikes, consider shoring up your portfolio with hard assets such as physical precious metals.
Click here for our free guide to gold buying in Canada in 2023. This free resource will help you learn how to find the best prices for your TFSA and RRSP-eligible gold and silver bullion and coins while avoiding taxable events, fees, and penalties that some first-time gold buyers can encounter.
Source Cited: https://www150.statcan.gc.ca/n1/daily-quotidien/230627/dq230627a-eng.pdf