The consumer price index (CPI) in Canada surprisingly rose by 0.7% on a monthly basis in April, per today's Statistics Canada (StatsCan) The Daily report issued at 8:30 a.m. on May 16th, 2023.
On an annual basis (Y-o-Y), the CPI rose by 4.4%. This constitutes the first inflation rate acceleration in Canada since June 2022, when the CPI peaked at 8.1%. Since then, the CPI has been gradually trending downward until now.
According to the StatsCan report, the main drivers behind this month's CPI reading are rising housing rental costs in addition to mortgage interest rates rising as well as higher gas prices. Both the annual and monthly CPI readings in April 2023 were higher than the previous month, which were 0.5% and 4.3% in March, respectively.
This month's CPI report was shocking for many economists and market watchers, who forecasted an inflation rate of 4.1% in April. While the Bank of Canada's near-term goal is to lower inflation rates to 3 percent, today's acceleration indicates that we may still be far off from this target rate. Today's report is also concerning from a monetary policy perspective, as it indicates that the central bank's monetary tightening policies and interest rate hikes are not successfully reining in inflation to target levels.
Avery Shenfeld, the chief economist at CIBC, was quoted as saying, "[T]he 4.4 percent print will be a bit of an eyebrow raiser for those counting on steady progress."
Similarly, Royce Mendes, the head of macro strategy at Desjardins Securities, said in a memo that "The slow down in Canadian inflation is looking like it may have been a false dawn."
It's worth noting, however, that the uptick in this month's inflation report may be partially explained by last month's base year effect. Due to the very strong price growth seen in March 2022 following the Russian invasion of Ukraine, it was expected that March 2023's annual inflation rate could be lower than expected. Therefore, this month's 0.1% increase over March may not seem so drastic when considered in this light.
In any event, inflation is continuing to negatively impact the lives of Canadians as of April 2023. Let's take a look at the details of this month's inflation report to see where and how Canadians' purchasing power is rising and falling.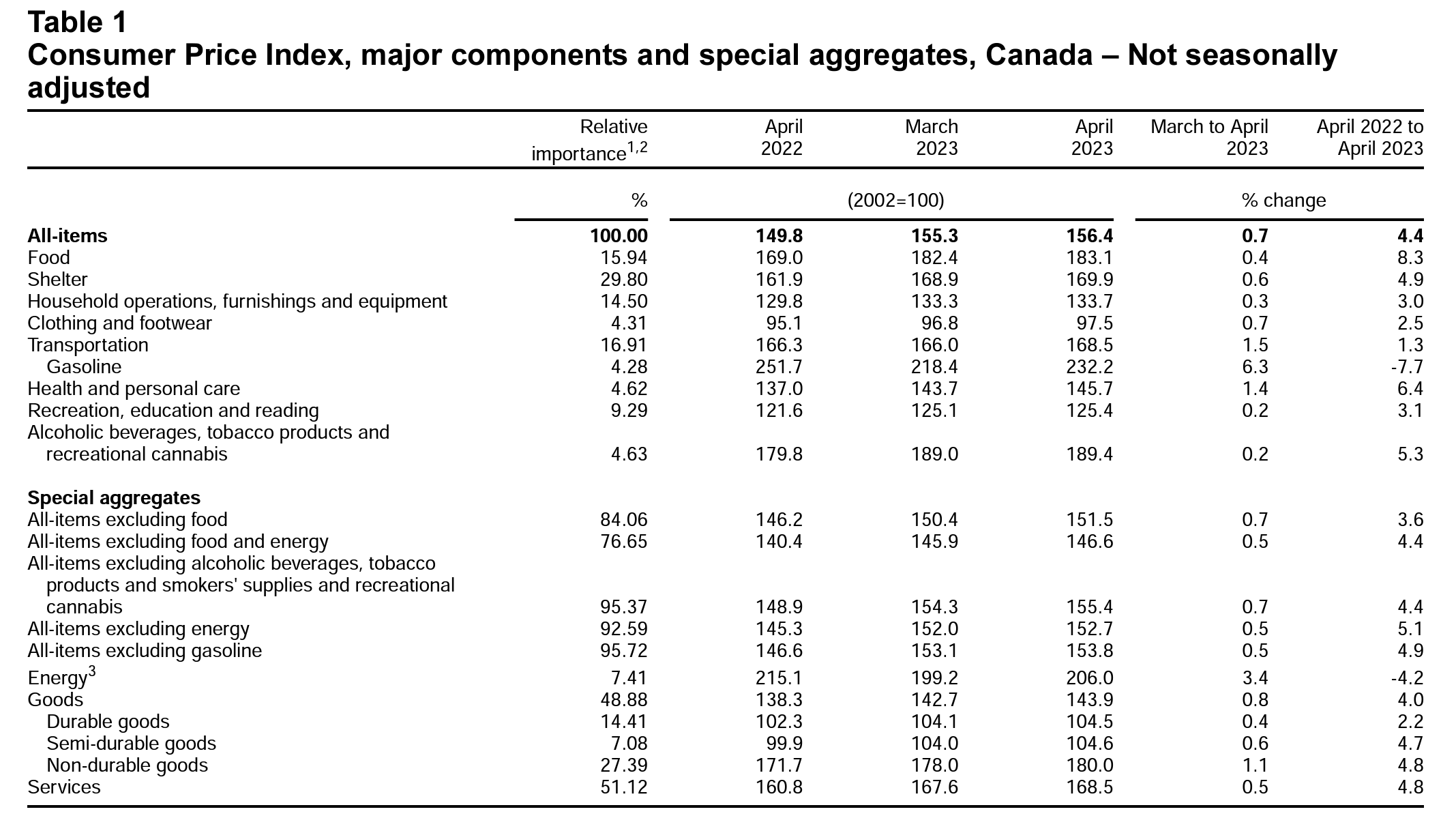 Source: Statistics Canada (Table 18-10-0004-01)
Core CPI Continues to Ease in Canada
Despite the poor total CPI report, the CPI excluding food and energy prices ("core CPI") continued to decline in April, coming in at 0.3% this month—matching last month's CPI report. This suggests that food and energy costs have a major role to play in this month's overall price acceleration, whereas services and basic discretionary goods are likely to have stagnated or even declined in price.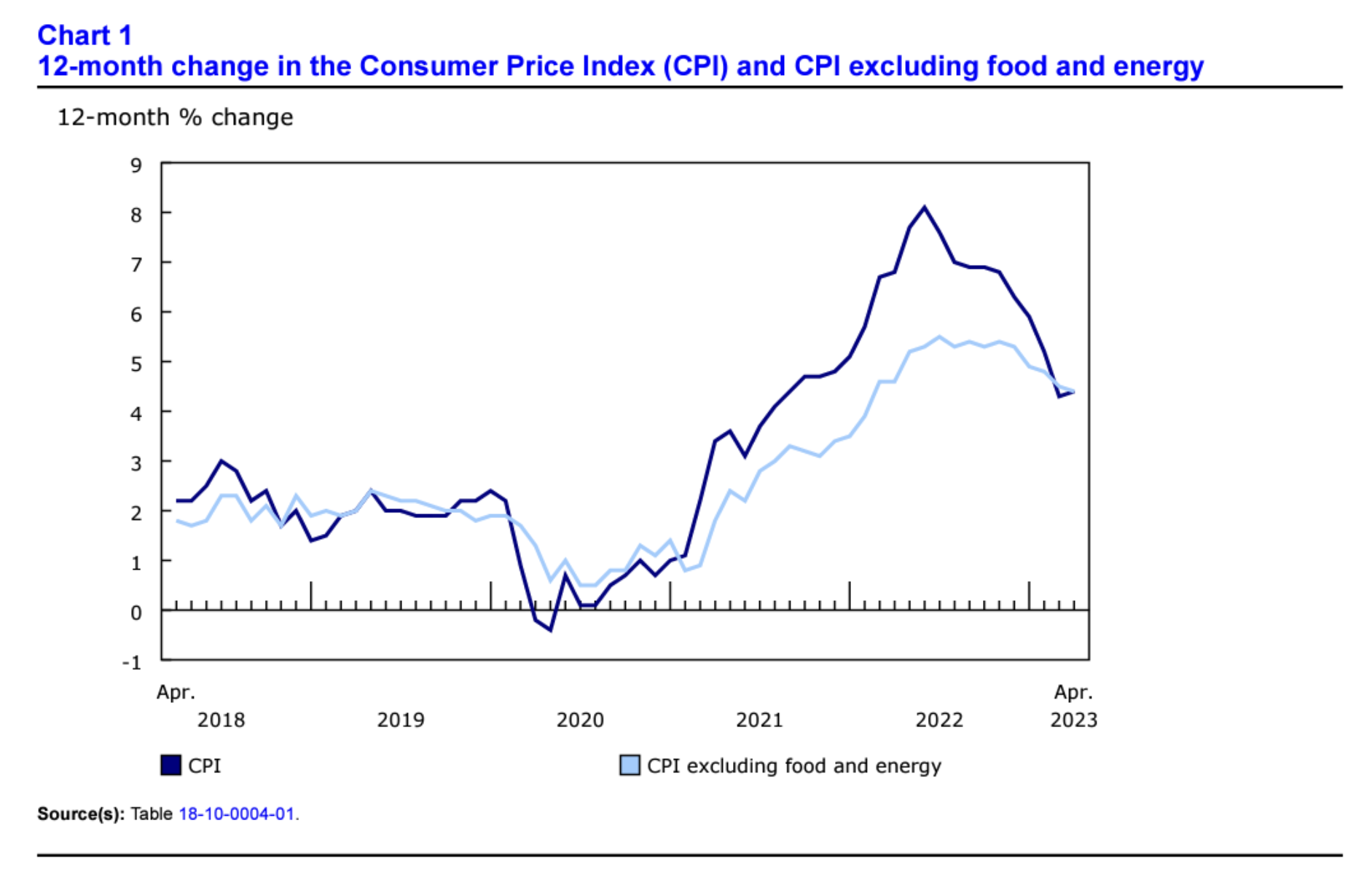 This Summer, Consider Hard Assets for Inflation Protection
April 2023's CPI report tells a concerning story about the state of Canada's roadmap to price stabilization. After 10 months of continual price deceleration due to Bank of Canada rate hikes, prices are now rising faster than they were earlier in the year. This has cast doubt on the effectiveness of the central bank's hawkish monetary tightening policies—leaving many Canadians to consider alternative options for protecting the value of their investments.
Interested in learning more about how inflation-resistant assets can assist with fighting the declining dollar? Click here for our free guide to gold buying in Canada in 2023. This free resource will help you learn how to find the best prices for your TFSA and RRSP-eligible gold and silver bullion and coins while avoiding taxable events, fees, and penalties that some first-time gold buyers can encounter.
Source Cited: https://www150.statcan.gc.ca/n1/en/daily-quotidien/230418/dq230418a-eng.pdf?st=KinSCavY