The consumer price index (CPI) in Canada went up by 0.5% on a monthly basis in March 2023, according to today's CPI report released by Statistics Canada (StatsCan) earlier today. Notably, the year-over-year (Y-o-Y) rate rose by only 4.3%, which constitutes a major slowdown from February's 5.2% Y-o-Y increase and is the smallest annual gain in the CPI since August 2021 (4.1%).
This is good news for Canadians, who have been reeling from the effects of high inflation for over two years, reaching as high as +8.1% in June of 2022. The March 2023 CPI report indicates that the Bank of Canada's interest rate tightening policy has been largely effective in combating high inflation levels. The current federal funds rate in Canada is set to 4.75%, a rate maintained since January of this year.
According to the Financial Post, the March 2023 report was largely in line with economists' predictions but, nonetheless, interest rate hikes from the Bank of Canada are still up for discussion for the June 7 meeting in order to reach their target inflation rate of 2%.
The strong Y-o-Y deceleration is caused in large part by base-year effects due to the very strong price growth seen in March 2022 following the Russian invasion of Ukraine, when the CPI spiked within the logistics and oil and gas sectors. Therefore, this month's reading may not be characteristic of a longer-term trend in the Canadian CPI. Moreover, this month saw significant mortgage cost increases (+26.4%) which were mostly offset by decreased energy costs (-13.8%).
Now, let's take a closer look at Canada's March 2023 CPI report to see what factors went into this month's numbers and to see where Canadians are seeing price relief and, on the other hand, where prices are continuing to increase.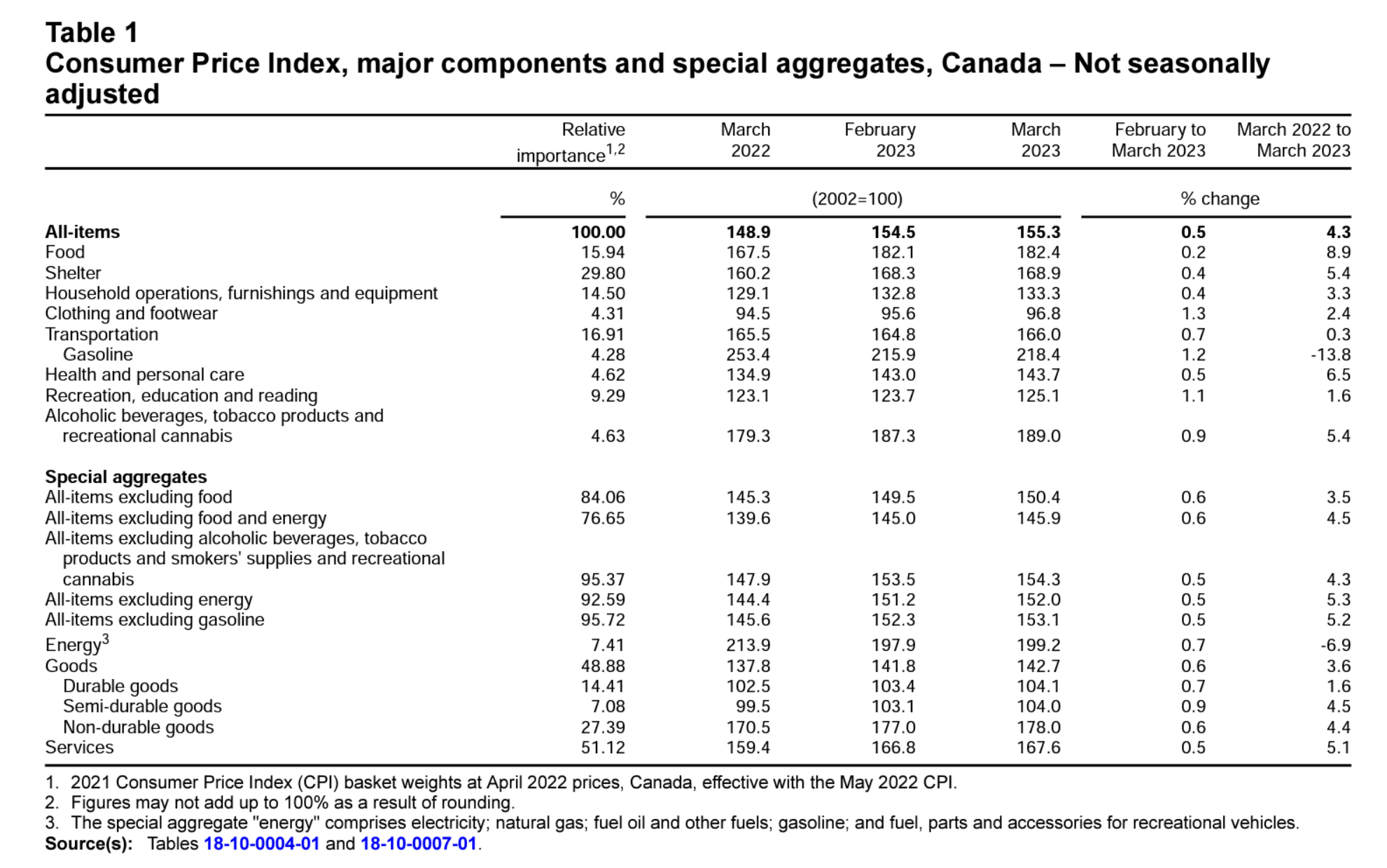 Source: Statistics Canada (Table 18-10-0004-01)
Core CPI Continues to Decline in Canada
The CPI excluding food and energy prices (the "core CPI") continued its long-term downtrend in Canada in March 2023. The core CPI was 4.5% in March, which is down from 4.8% in February. The slowdown in core inflation was felt in Atlantic Canadian provinces more than elsewhere in the country, according to the StatsCan The Daily CPI report.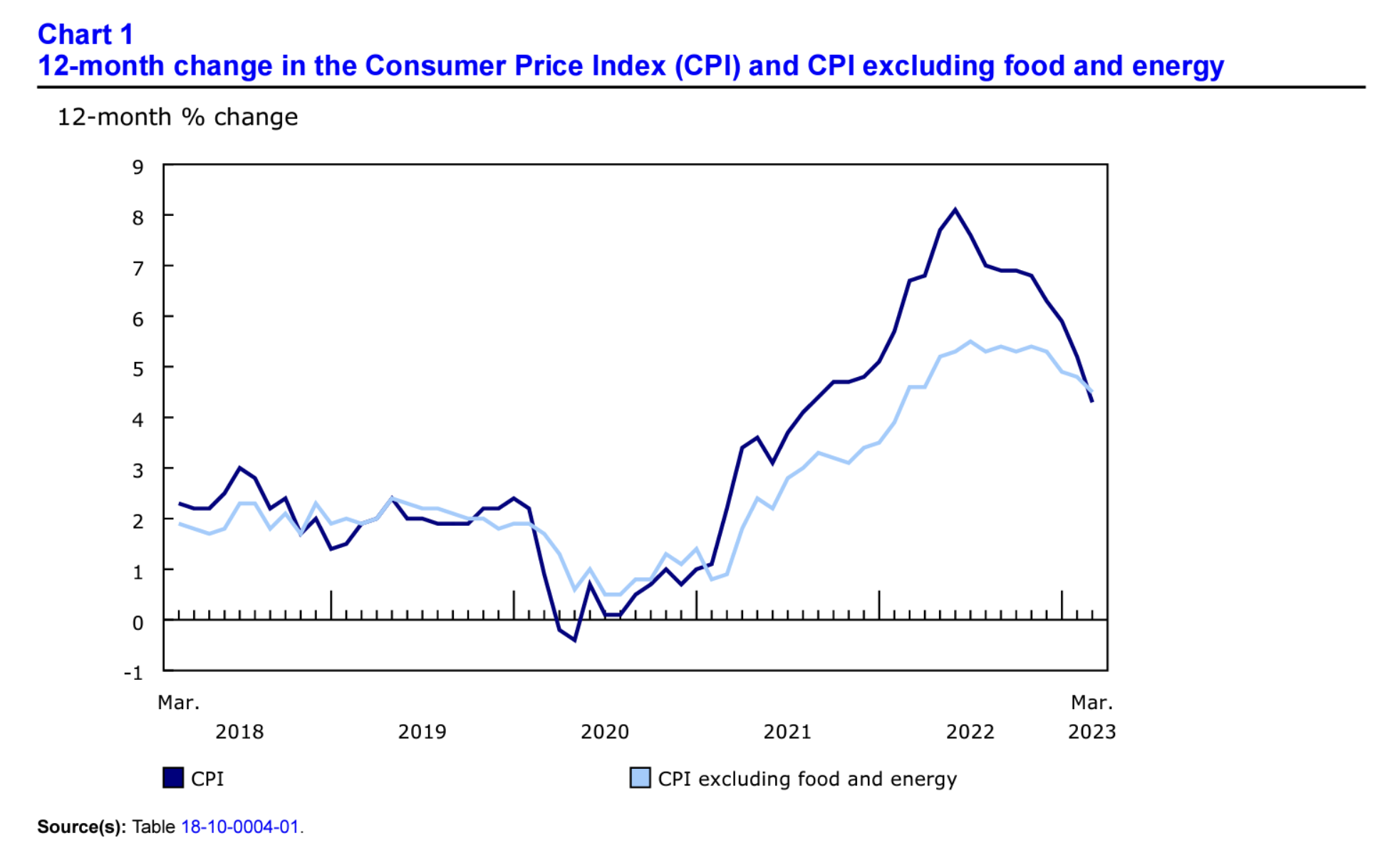 Sick of Inflation? Alternative Assets Can Provide Protection
While March 2023's CPI report is welcome news, prices remain elevated for Canadians from coast to coast. In particular, food and housing costs are rising dramatically, reducing Canadian's discretionary income, reducing their purchasing power, and casting doubt on their retirement timelines.
Interested in learning more about how inflation-resistant assets can assist with your retirement planning? Click here to read our free guide to gold buying in Canada in 2023. This free resource will help you learn how to find the best prices on TFSA and RRSP-eligible gold and silver bullion and coins while avoiding taxable events, fees, and penalties that some first-time gold buyers can encounter.
Source Cited: https://www150.statcan.gc.ca/n1/en/daily-quotidien/230418/dq230418a-eng.pdf?st=KinSCavY