Canada's consumer price index (CPI) rose by 0.4% on a monthly basis in February 2023, according to today's CPI report published by Statistics Canada this morning. On a year-over-year (Y-o-Y) basis, the CPI rose by 5.2% in the same time period. The inflation rate slowed down more than forecasters predicted, coming in well under the 5.4% average that some economist groups, such as Capital Economics, predicted for Q1 2023.
Despite the sharp month-over-month drop in the CPI from January (5.9%), the food and energy indices represented only a marginal drop from last month's rates. Reuters reported that store-bought food prices rose 10.6% year-over-year in February, constituting the seventh consecutive month in which grocery store food items hit double-digit growth.
Overall, the Y-o-Y change in the CPI is the largest single-month drop since April 2020. For many Canadians, this comes as welcome news as it indicates that the hawkish interest rate policy deployed by the Bank of Canada in Q4 2022 was largely effective in restraining the CPI.
But how does the CPI look on further inspection? As per usual, some items saw significant price increases, while others fell in step with the index. Read on to find out how the main CPI items performed this month.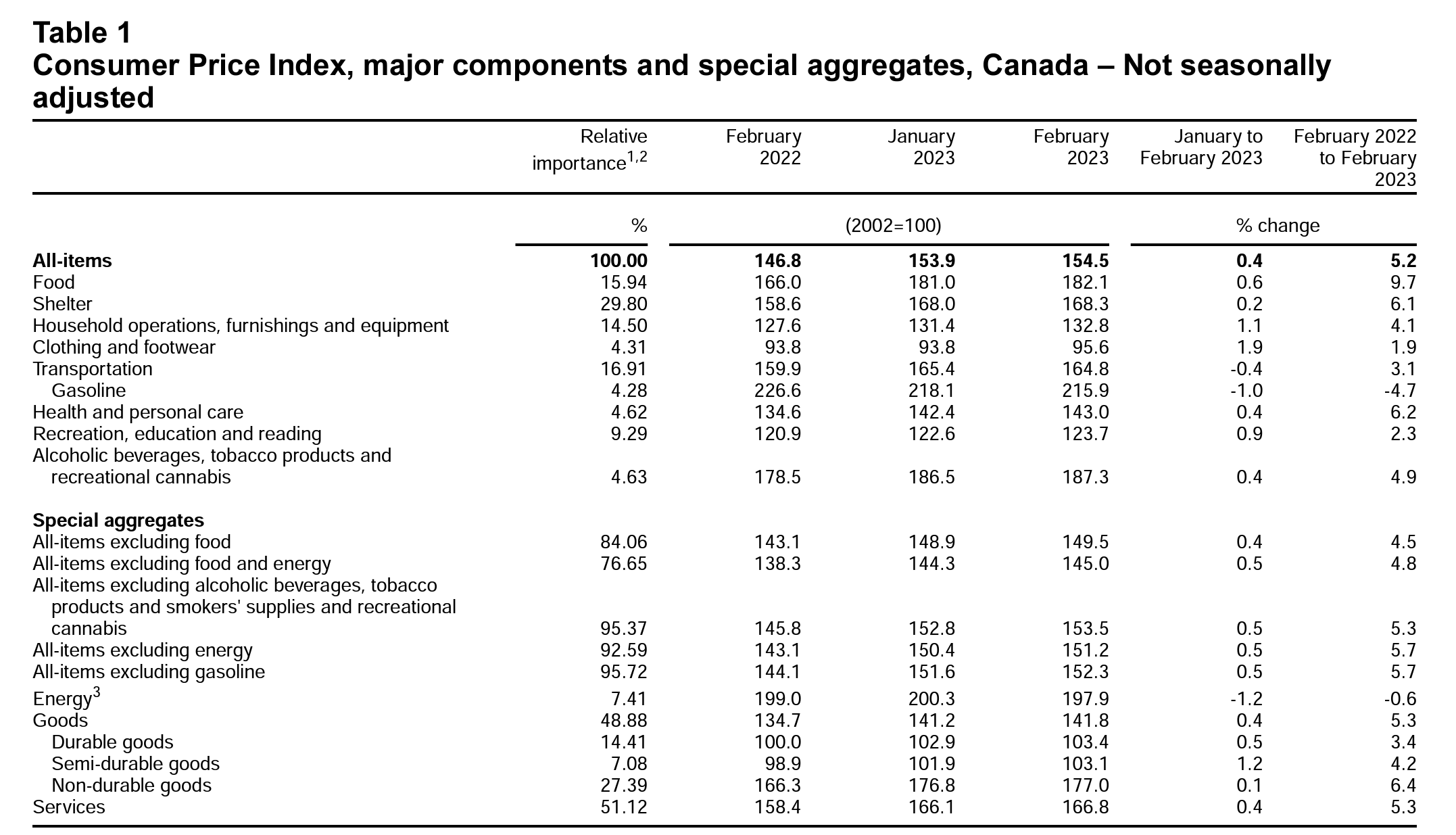 Source: Statistics Canada (Table 18-10-0004-01)
Canadians Get Relief at the Gas Pump
Following a 5.4% gas price hike in January, February saw much-needed relief for Canadian motorists. Gasoline prices fell (-0.6%) Y-o-Y due, in large part, to the base-year effect in Canada's CPI reporting (more on the "base effect" explained here). Since gas prices rose rapidly in February 2022 following the Russian invasion of Ukraine, the relative drop in last month's gas prices is likely explained by the sudden peak we saw at this time last year.
It also helps that the U.S. crude oil market saw higher-than-average inventory levels in February, which drove down prices market-wide.
February saw the first yearly decline in gas prices since January 2021.

Shelter Costs Continue to Rise, Albeit at a Slower Rate
While shelter costs rose 6.1% in February, this marks the third straight month in which shelter costs have decelerated month-over-month. Most notably in the homeowners' replacement cost index, which rose by only 3.3% compared to January's 4.3%.
The figures above indicate that the Canadian housing market is cooling, due in large part to the increased costs of borrowing in the country.
Homebuyers shouldn't rejoice too soon, however, as the mortgage interest cost index accelerated by a whopping 23.9%, up from 21.2% in January. This is the fastest that this index has risen in a single month in over 40 years, which occurred within an even higher interest rate environment than today.
The chart below demonstrates the current average single-family home prices in many Canadian major cities. Underneath are a variety of current promotional 5-year fixed interest rates on mortgages. Although interest rates are significantly higher than they were only 18 months ago, which has driven up shelter costs for homeowners, the Canadian housing stock has seen a longstanding cool-down since at least Q2 2022.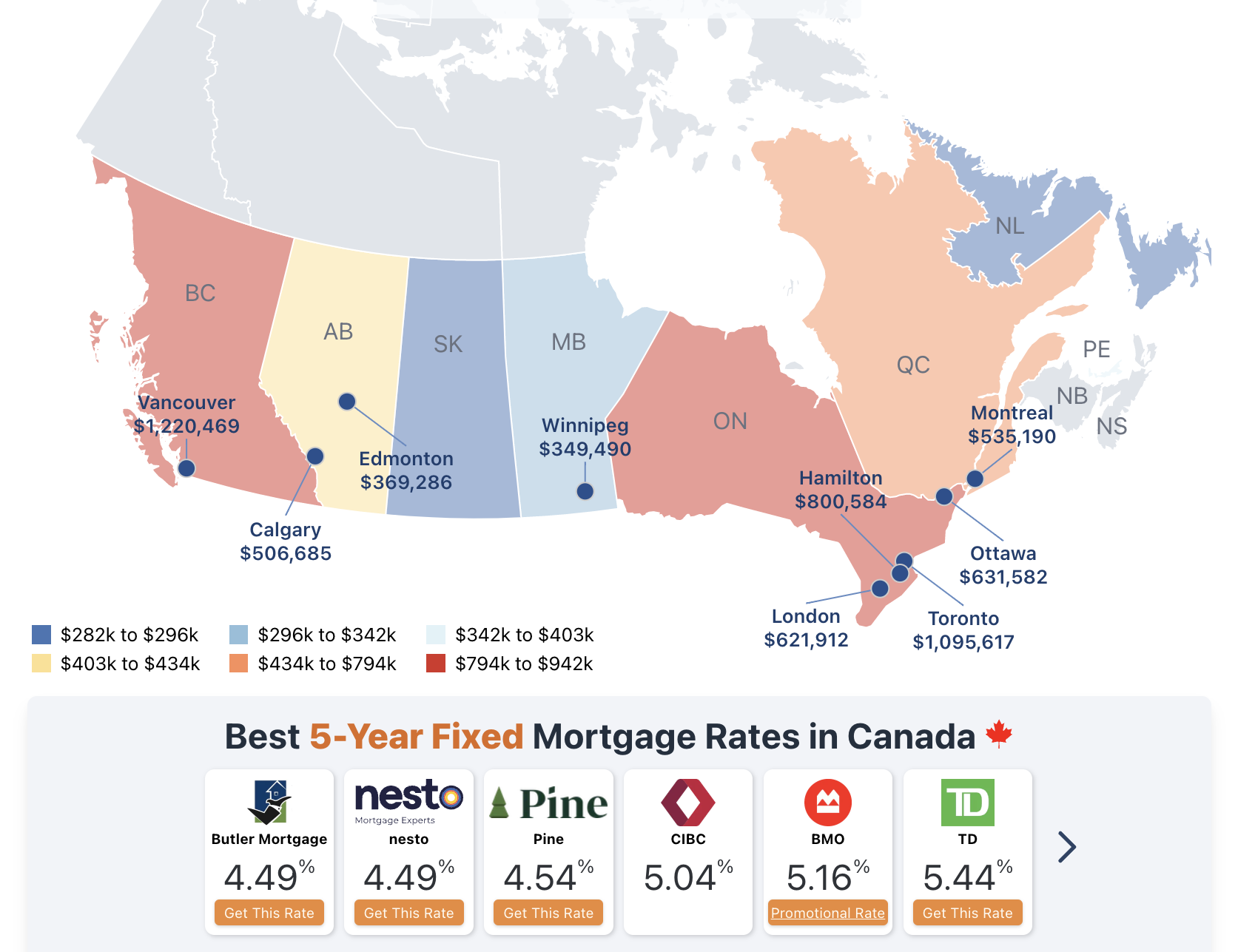 Source: WOWA.ca
Food Prices Continue to Sting at the Checkout Aisle
The cost of food in Canada rose in February by 10.6%, marking seven straight months of Y-o-Y price growth of over 10 percent. Supply constraints, paired with high input costs associated with feeds and packaging, were mostly responsible for this month's growth.
Cereals (+14.8%), sugar and confectionary (+6.0%), and fish and seafood (+7.4%) accelerated on a Y-o-Y basis in February compared to previous months. Climate-related events also caused a supply shortage of oranges, and Hurricane Ian inflicted $6.7 billion USD in crop damage alone in Florida. Adverse climate events caused orange juice and other citrus fruit products to incline rapidly in prices, as indicated by fruit juices increasing 15.7% in February.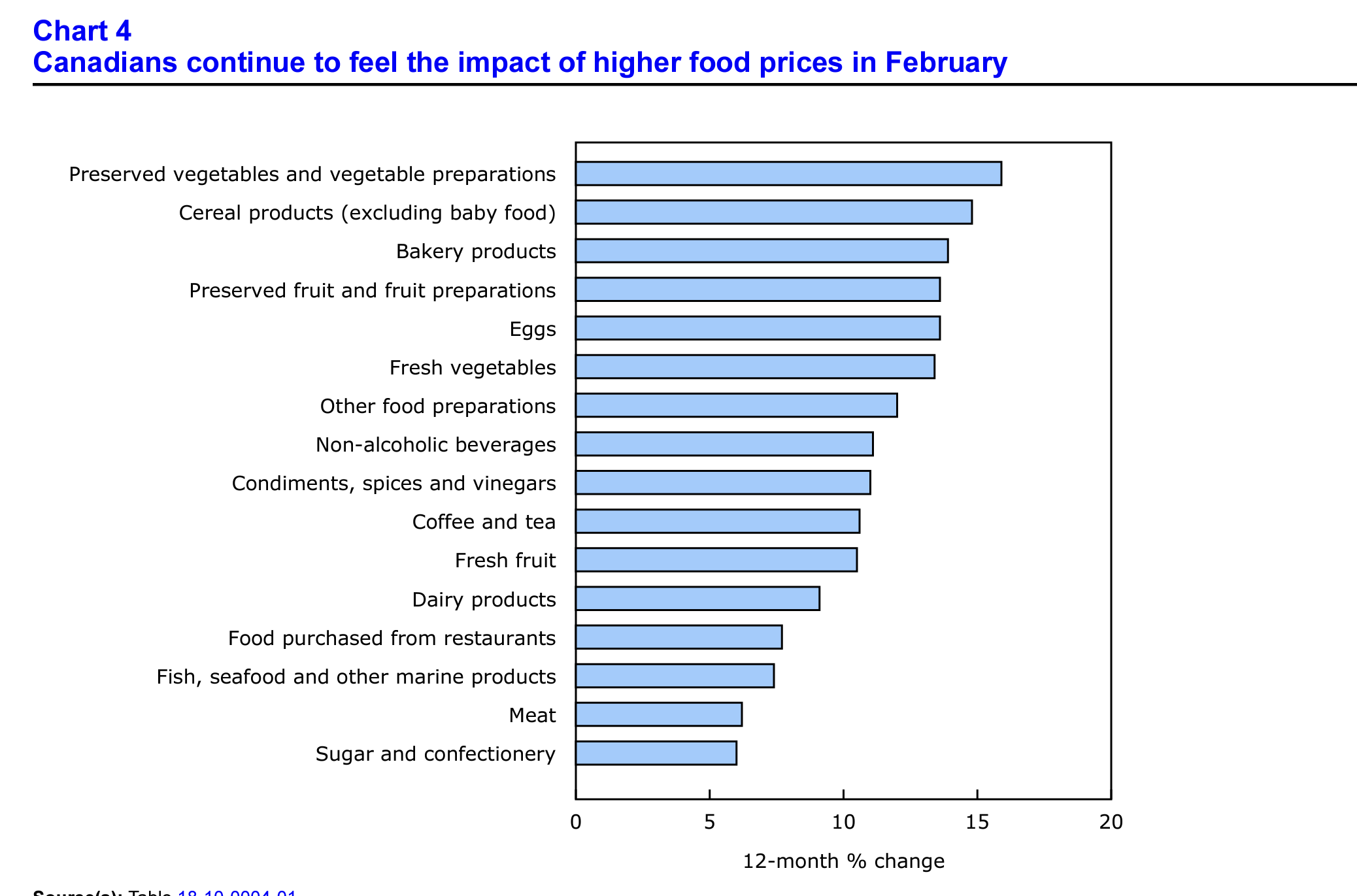 Nationally, Canadians in Prince Edward Island, Nova Scotia, and Manitoba experienced the higher 12-month changes in regional CPI nationwide. In each case, CPI growth Y-o-Y surpassed 6.0%. By contrast, Alberta's CPI slowed the most Y-o-Y, hitting only 3.6% in February. The Statscan Daily report specifically mentions more affordable childcare solutions in Alberta as being a large driver of the province's CPI reduction. Indeed, the province saw childcare and housekeeping costs decline (-33.8%) last month.
Despite inflation trending downward for Canadians, there's little doubt that Canadians from coast to coast are suffering from the effects of a devaluing Canadian dollar, increasing essential goods such as gasoline and groceries, and higher mortgage rates.
Want to learn about diversifying your retirement portfolio with historically inflation-resistant assets? Check out our free guide to gold buying in Canada in 2023. In it, you will learn how to get the best deal on TFSA and RRSP-eligible bullion and coins while avoiding the unfortunate scams and pitfalls that first-time gold and silver buyers can sometimes fall victim to.
Source Cited: https://www150.statcan.gc.ca/n1/daily-quotidien/230321/dq230321a-eng.pdf