The Consumer Price Index (CPI) rose by 0.5% on a monthly basis in January 2023, per today's CPI report published by Statistics Canada. On a year-over-year (Y-O-Y) basis, the CPI rose by 5.9%. January's inflation rate was lower than the 6.1% expected by BNN Bloomberg's survey of economists and represents a decline from December's 6.3% 12-month increase. 
According to the same BNN Bloomberg report, Canada's lower-than-anticipated CPI outcome will likely give the Bank of Canada room to maintain interest rates at their current level.
High gasoline prices were the largest contributor to January 2023's headline CPI increase, in addition to high meat and egg prices and rising mortgage costs. 
Building on December 2022's CPI report, the gradual cooling of Canada's inflationary environment is likely a sign that the Bank of Canada's hawkish interest rate policy has been effective in reining in cost pressures in Canada.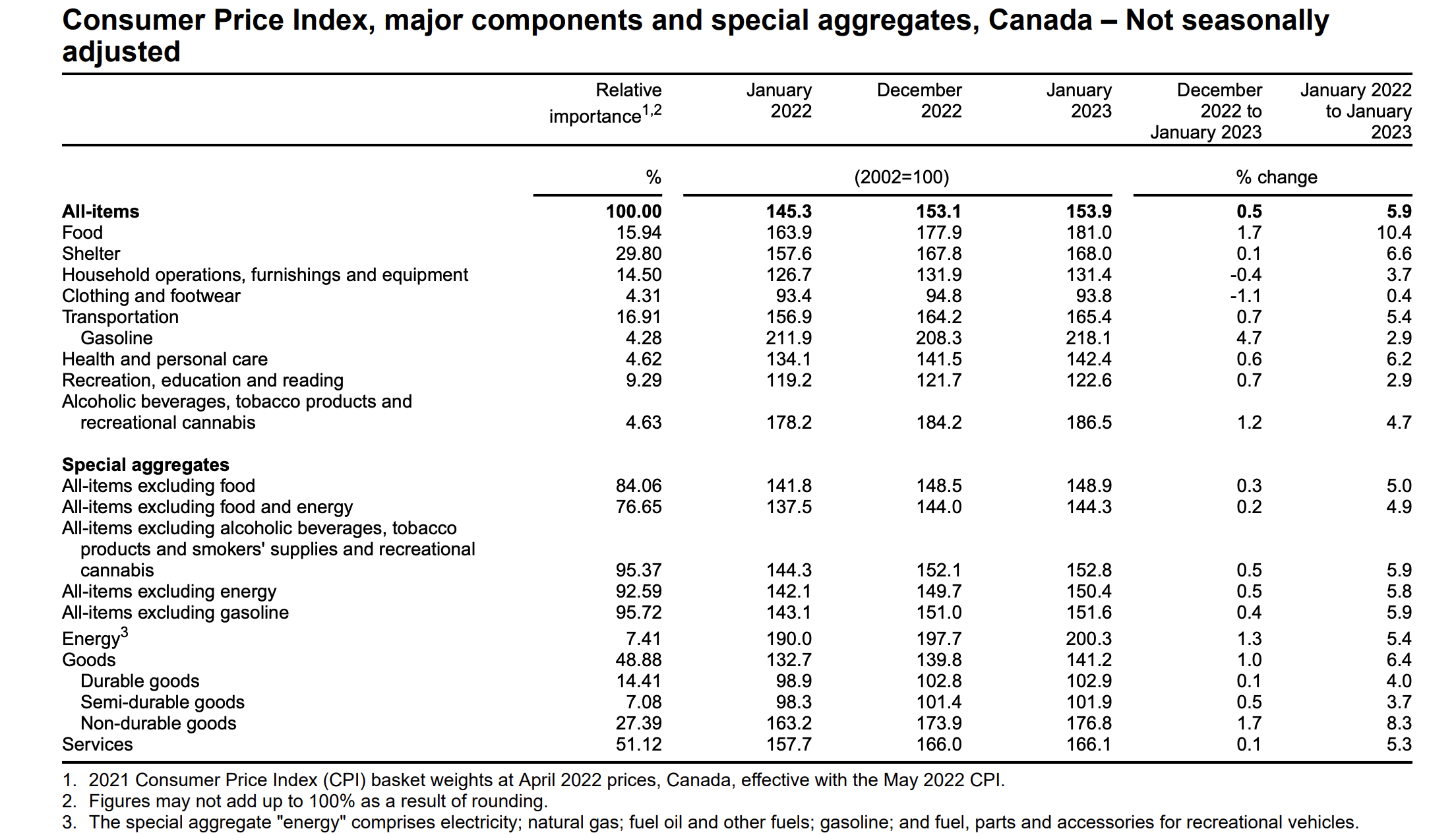 Source: Statistics Canada (Table 18-10-0004-01)
Canadians Paying More at the Pump
In January, Canadians paid 4.7% more at the gas pump than they did the year prior. Due to severe winter storms in the southwestern United States, several oil refineries were closed, which put upward price pressure on gasoline in North American markets.
Gasoline prices constituted the largest increase in all-item CPI increases month-0ver-month in January 2023's CPI report. This represents the largest month-over-month increase in gasoline prices since October 2022.

Cellular Services and Passenger Vehicles
According to StatsCan's January 2023 CPI report, cellular services dropped by 7.9% year-over-year after increasing by 2.5% the month prior. This is due in large part to Boxing Day sales which extended into January, providing price relief for Canadians in the mobile sector. 
Meanwhile, January saw passenger vehicle prices increase 6.2%, decelerating from 7.2% in December. Due to supply constraints in the passenger vehicle industry, there is lower availability for new model-year vehicles as compared in January 2022, an issue that has impacted the automotive industry for over a year.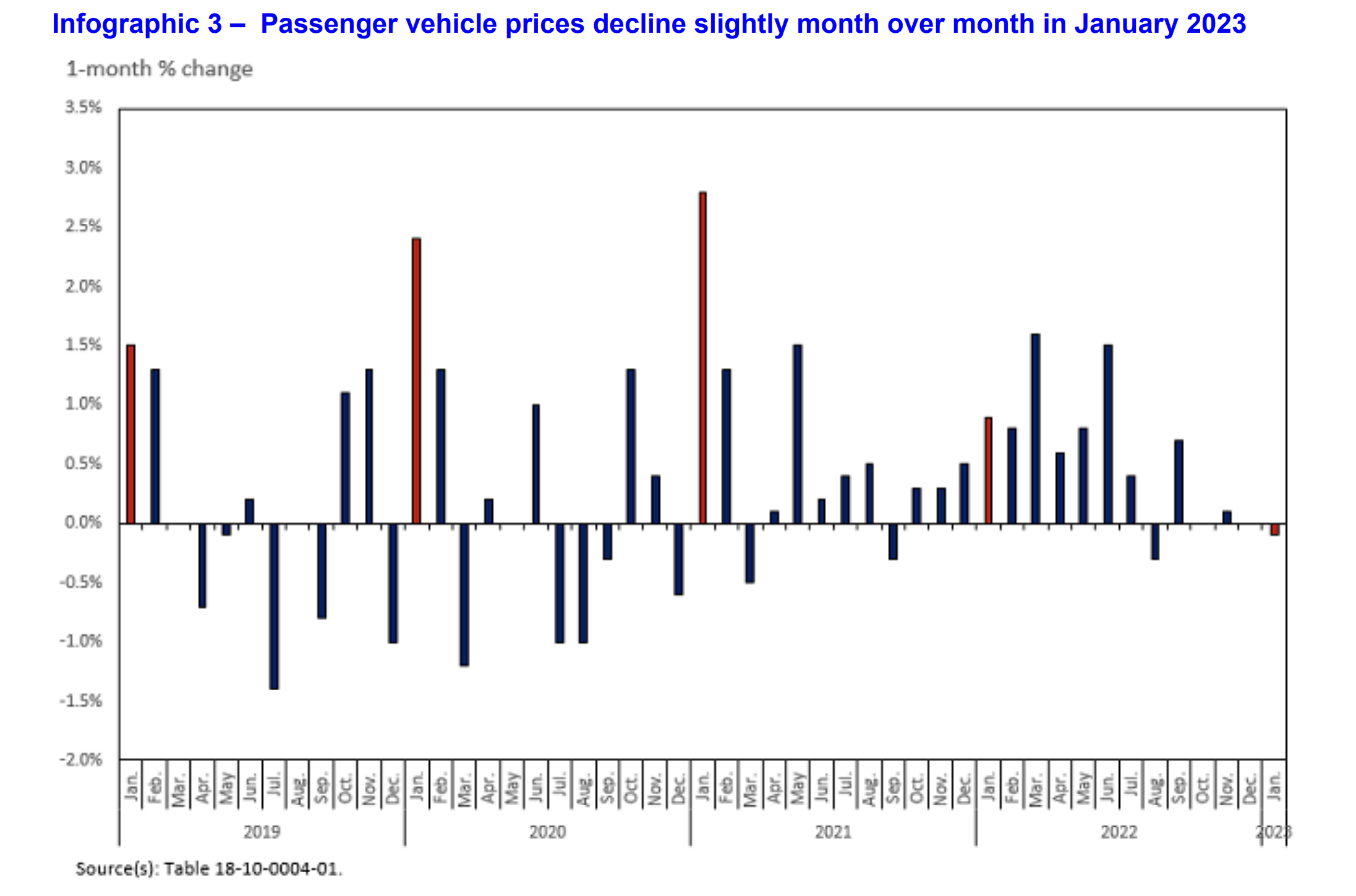 Food Prices Continue to Sting Shoppers
Whether it's at the checkout aisle in the grocery store, or paying at a restaurant, Canadians paid more for food in January 2023 than they did the year prior. Food prices increased 10.4% Y-o-Y in January 2023, accelerating from 10.1% in December.
Meat prices were the primary culprit for Canada's food price accelertion, rising 7.3% Y-o-Y and rising at the fastest monthly rate since June 2004. Chicken prices alone rose 9.0% in January from December, which constituted the largest monthly gain in this category since 1986. Supply issues brought about by avian influenza and strong seasonal demand were largely responsible for the sudden rise in both fresh and frozen chicken prices.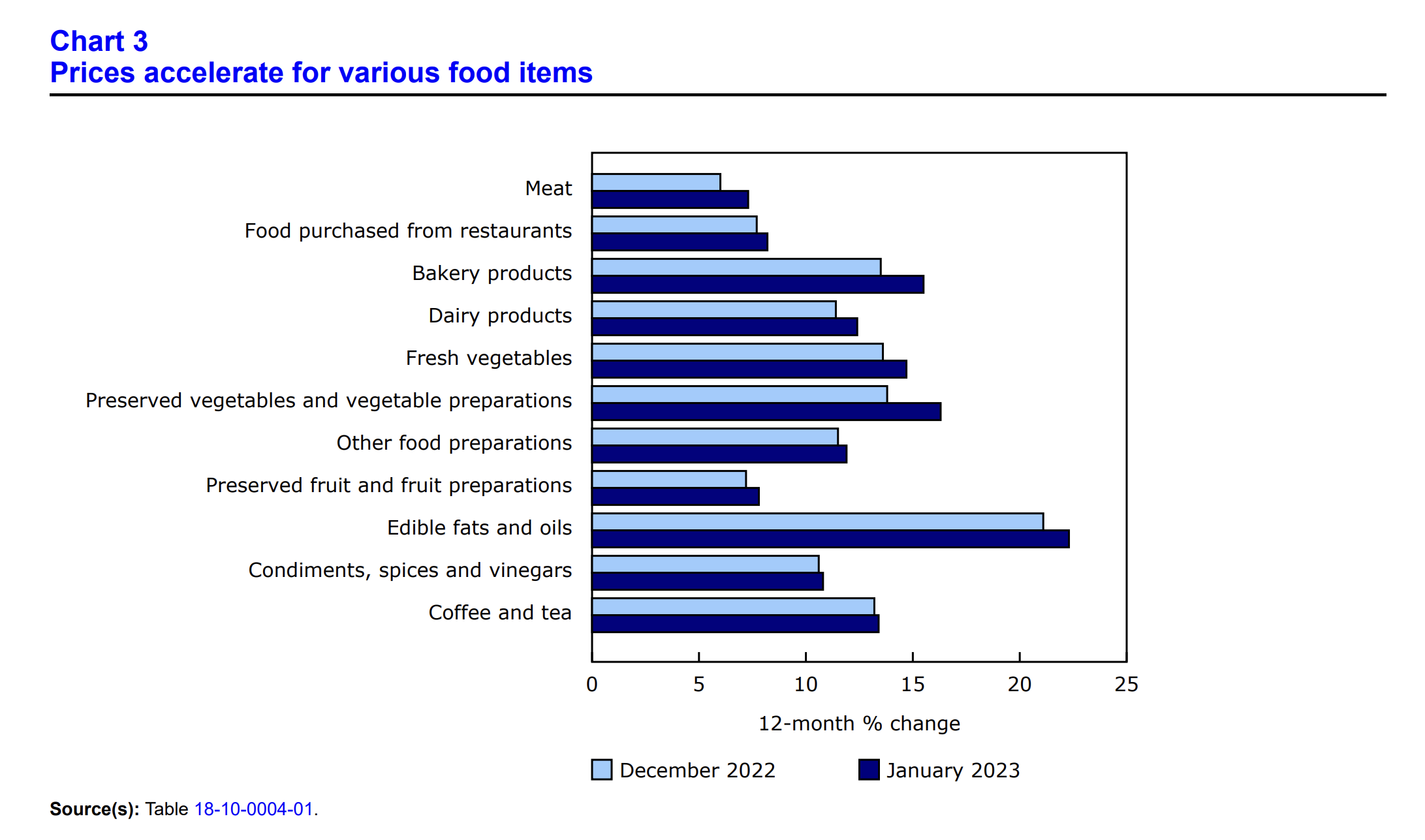 On a national scale, Manitoba saw the slowest price growth as gasoline prices in the provinces rose at a faster rate than in any other Canadian province. New Brunswick, however, was the sole province that saw faster economy-wide price growth in January than in December.
Notably, electricity prices in Alberta fell (-45.6%) in January on a monthly basis, which is the largest single-month drop in electricity prices on record. This sudden price change comes as a result of an increase in Alberta's provincial energy rebate, offering up to $500 in relief to Albertans as part of the United Conservative Party's policy initiative to improve affordability in the province.
Although inflation continues to trend downward for Canadians, there's no doubt that Canadians nationwide are suffering from the effects of a devaluing Canadian dollar.
Interested in learning about diversifying your investment portfolio with historically inflation-resistant assets? Check out our exclusive guide to buying gold in Canada in 2023. In it, we explain how you can get the best deal on TFSA and RRSP-eligible bullion and coins while avoiding the common scams and pitfalls that first-time buyers can sometimes run into.
Source Cited: https://www150.statcan.gc.ca/n1/daily-quotidien/230117/dq230117a-eng.htm