Canada's consumer price index (CPI) dropped significantly in June 2023 to 2.8% year over year (Y-o-Y), per today's Statistics Canada (StatsCan) The Daily report issued at 8:30 a.m. on July 18th, 2023. This constitutes a major deceleration from May's 3.4% increase posted the previous month.
This comes as a surprise given that the Bank of Canada predicts the inflation rate to remain around 3.0% for the remainder of the year. Therefore, the July 2023 CPI report in Canada outperformed expectations and further indicates that the central bank's hawkish interest rate policy is succeeding in reining in inflation.
However, rising food and grocery costs continue to erode Canadian families' purchasing power. Sticker shock at the checkout aisle currently shows no sign of abating as grocery prices rose 9.1% in June. Rising mortgage costs, due to interest rate hikes, were another primary driver of inflation in June with a rise of 30.1% on the month.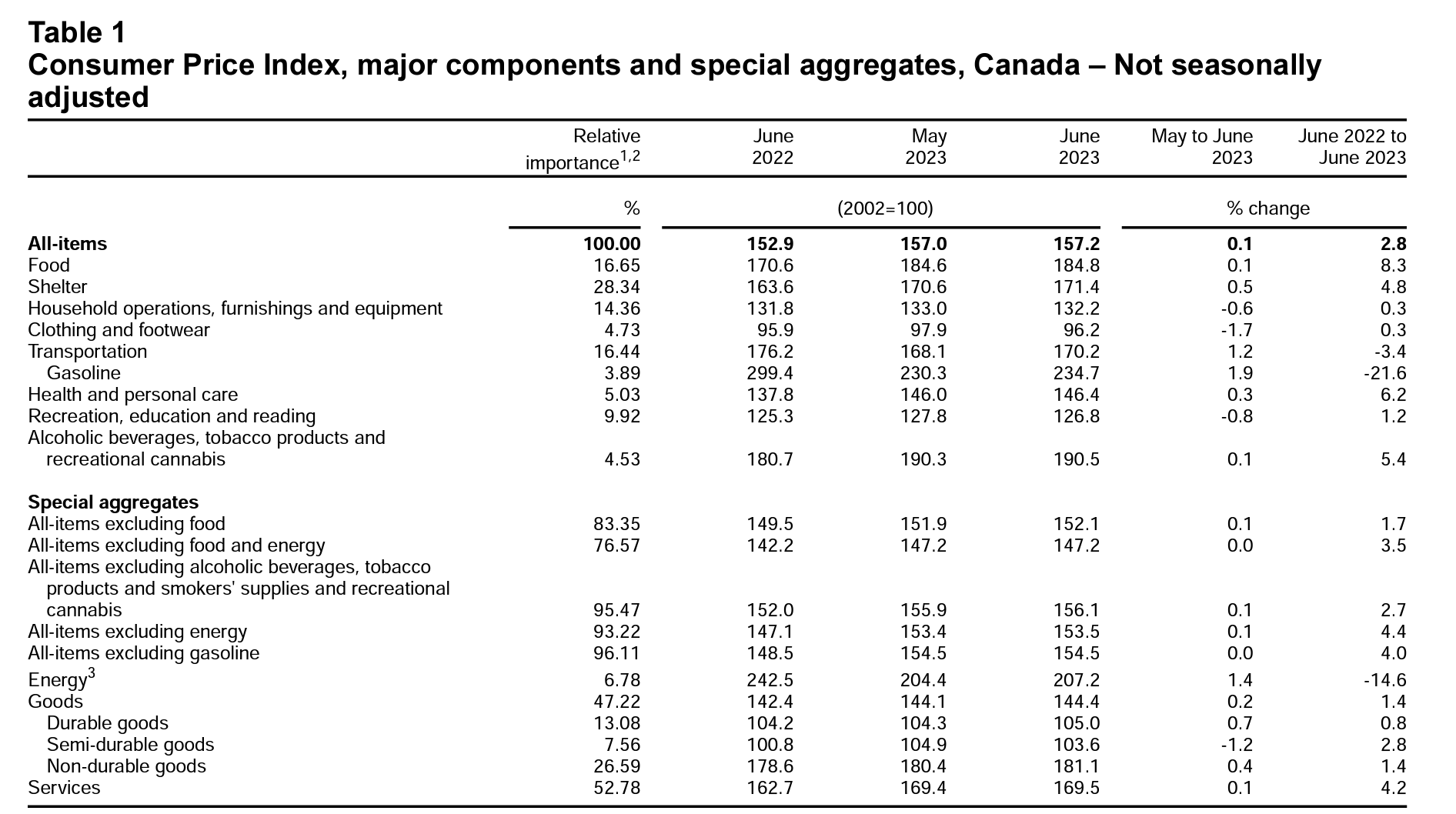 Source: Statistics Canada (Table 18-10-0004-01)
Core CPI Continues to Trend Downward
For the reference month of June 2023, the core CPI (i.e., CPI excluding food and energy prices) continued to decline—a pattern recurring since late 2021. The annual measure of core inflation for June 2023 in Canada was 5.1%, down from 5.2% in May and steep month-over-month declines in April and March (both 0.3%). This suggests that food and energy costs play a significant role in this month's overall CPI report, whereas services and basic discretionary goods are likely to have stagnated or even declined in cost.
Along with previous months, June 2023's CPI report indicates that declining gasoline prices are contributing heavily to Canada's declining inflation rate. By contrast, higher mortgage rates, rents, and grocery prices are contributing to net-increases in the CPI.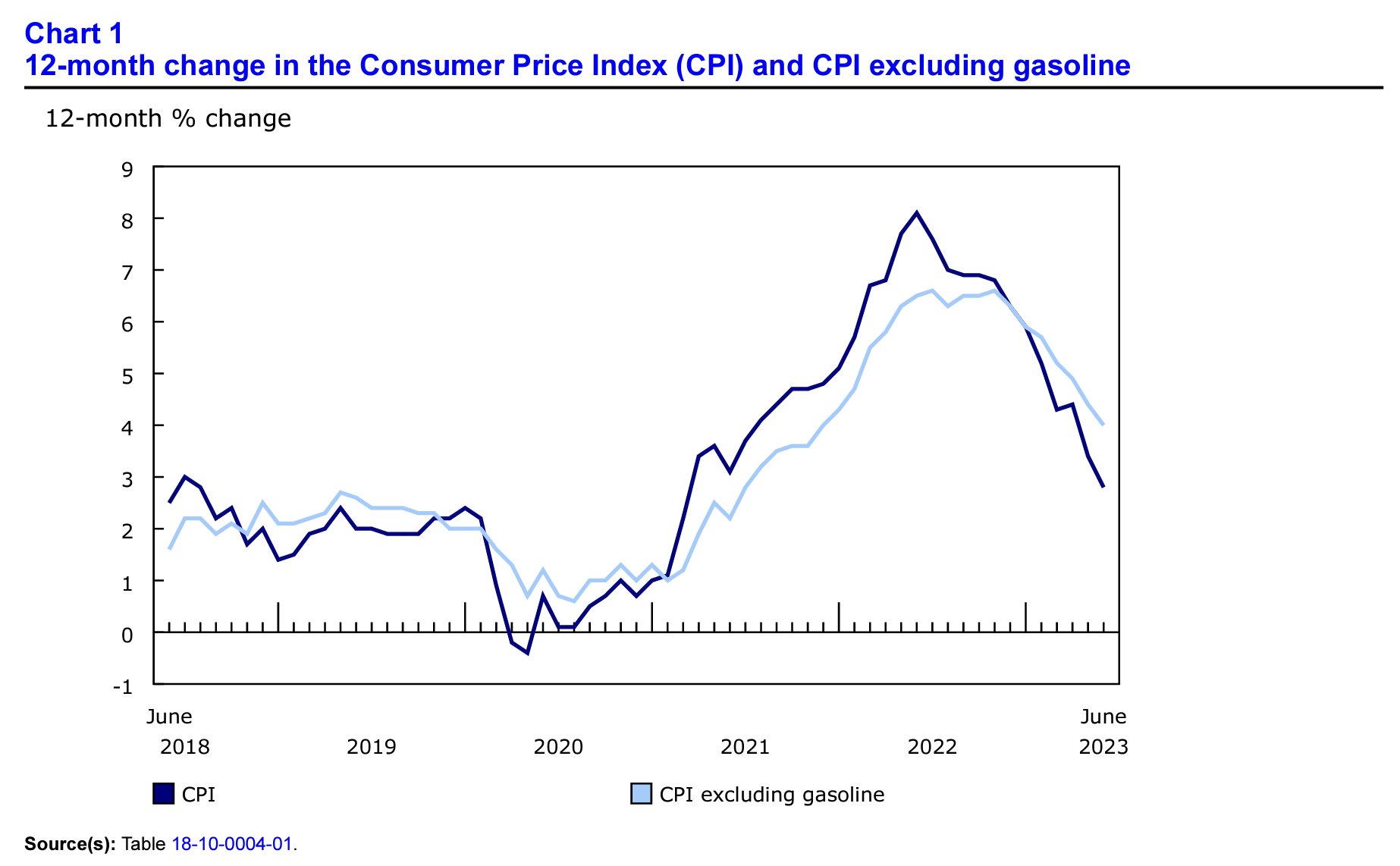 Major Regional Discrepancies July 2023's CPI Report
In June 2023, Canadian provinces continued to experience inflation differently. Although the nationwide inflation rate is 2.8 percent, certain provinces such as Prince Edward Island saw the lower rises in inflation (+0.2% in PEI) due to sharp declines in energy prices being felt disproportionately across Canada's provinces and territories.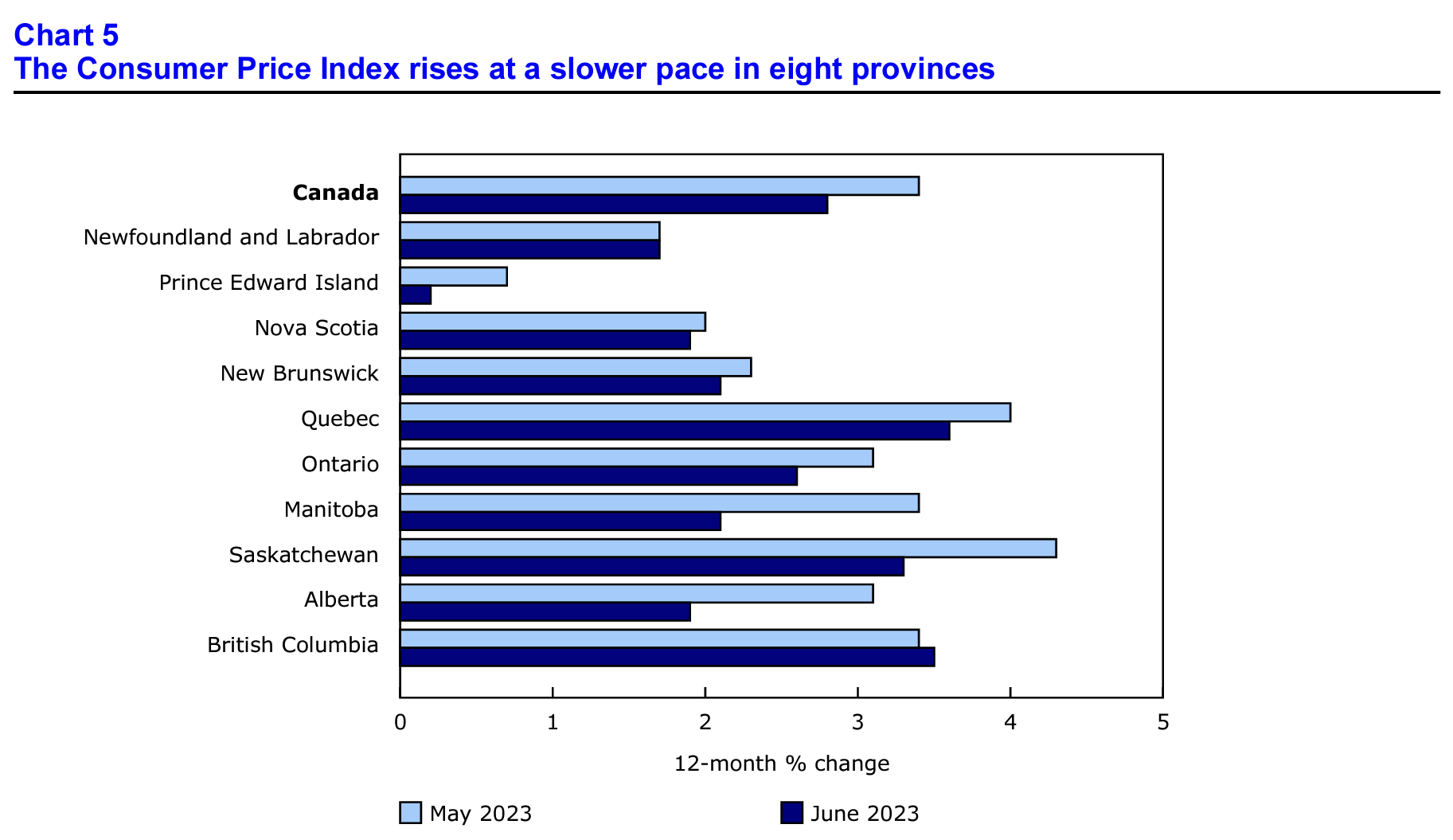 Don't Let Your Savings Get Burnt by Inflation This July
After experiencing generationally high inflation levels in 2021 and 2022, today's July 2023 inflation report comes as a relief to many Canadians. We are now officially within the Bank of Canada's target rate zone. However, challenges still abound regarding grocery prices and home ownership costs. Plus, Canada's central bankers recently hiked rates by 25 basis points and may do so again before year-end.
Don't wait— safeguard your savings from the wealth-evaporating effects of inflation. With future rate hikes potentially on the horizon in Canada, consider shoring up your portfolio with hard assets such as physical precious metals.
Check out our free guide to gold buying in Canada in 2023. This free resource will help you learn how to find the best prices for your TFSA and RRSP-eligible gold and silver bullion and coins while avoiding taxable events, fees, and penalties that some first-time gold buyers can encounter.
Source Cited: https://www150.statcan.gc.ca/n1/daily-quotidien/230718/dq230718a-eng.pdf